Danes test phosphorus extraction technology
A Danish partnership project to test technologies to extract phosphorus from wastewater has been set up by the utility Aarhus Vand (AV). The project at Aby treatment plant in Aarhus, Denmark's second-largest city, was opened at the end of November by the Danish Minister for the Environment.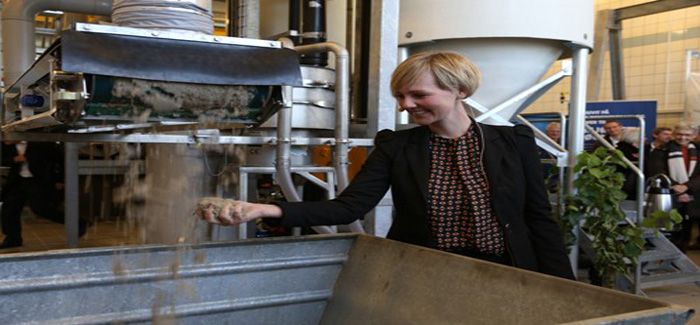 Danish Environment minister Ida Auken opens the new project in Aarhus, Denmark
AV has worked on removing phosphorus from wastewater since 2011. The element can form deposits in pipes and cause blockages.
However, it is also an important and increasingly scarce global resource. As a nutrient it is an essential factor in plant growth and therefore an important element of food production for a growing global population.
Claus Homann, department manager at Aarhus Vand, believes the plant in Åby can be developed to extract 60% of the phosphorus from wastewater. "Extracting phosphorus from wastewater holds great potential," he said. "From our perspective, we can solve a problem and exploit an opportunity at the same time. We can avoid blockages in our pipes while extracting a valuable resource with commercial value at the same time."
Naturally occurring phosphorus, which can be mined for fertiliser, is a limited resource in danger of being exhausted. Phosphorus recycling and new ways of mining it have therefore become areas receiving global attention.
In addition to AV, partners include utilities Herning Vand and Horsens Vand, Danish pump manufacturer Grundfos, the Danish Knowledge Centre for Agriculture and consultants Norconsult. The partnership was formed in January 2013.
Grundfos is one of the partners in the project, supplying highly specialised components for phosphorus extraction in the form of dosing pumps, booster systems and control systems for the wastewater plant.
Grundfos' business development manager, Per Krøyer Kristensen, said: "We are interested in seeing how our solutions can play a role in the project. We already have these technologies, so what we are looking at is a different way of applying them. We will start by testing how it all works and then make a decision as to whether this is something we will continue to pursue."
Environment minister Ida Auken said: "The Danish government wants a greener Denmark. This project is an example of what green transition is all about. We develop solutions to environmental problems while also creating new products which can generate income in the future. Phosphorus discharge into the aquatic environment is not only a challenge in Denmark, it is a global problem, so there are great benefits in finding a method to solve it."