Councillors get the low-down on odour at Blackburn Meadows
Councillors from Rotherham Metropolitan Borough Council having been discovering how Yorkshire Water is working to reduce the risk of future odour problems from Blackburn Meadows wastewater treatment works.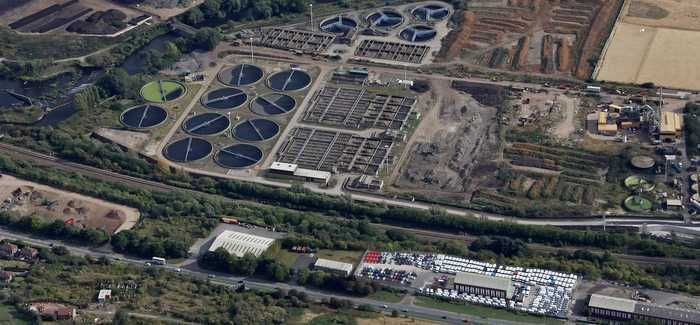 Yorkshire Water is investing at the site to improve the treatment process, and increase the quality of water discharged
Today, councillors Kath Sims, John Foden and Jahangir Akhtar, who represent the Rotherham West Ward, have been touring the facility, which is one of the largest sewage works in Yorkshire. The 78-acre site is located next to Meadowhall shopping centre and treats wastewater from a population equivalent of more than 800,000 people from the Sheffield area, including a number of key industrial sites.
Earlier this summer some residents in the Rotherham West area experienced odour issues when a problem with the site's incinerator unit coincided with the hot weather to cause an increase in odours from the site.
Neil Dewis, manager of central control, said: "We were pleased to be able to show the councillors round the site today and to explain how we have been working closely with the Environment Agency, Sheffield City Council and Rotherham Metropolitan Borough Council to develop a plan to address the problems that caused the odours on site."
Councillor Jahangir Akhtar said: "I am pleased to see that Yorkshire Water is taking this issue seriously and that they are working with partners including Rotherham Council to develop a clear plan to prevent future odour problems. The local councillors will continue to keep the pressure on Yorkshire Water to ensure that this work continues and that local people are kept informed of what is happening."
Councillor Kath Sims said: "This is a long-term project to improve the treatment of wastewater in the area and a massive investment by Yorkshire Water. I live close to the site and there were several occasions over the summer when the odour was the worst I had known it in the many years I have lived in the area.
"I reported my concerns direct to Yorkshire Water as well to RMBC Environment Health Officers. We have been assured that communications between Yorkshire Water and local residents will be improved."
Alongside the work to reduce odours, Yorkshire Water is currently investing £78M at the Blackburn Meadows site to improve the wastewater treatment process, and increase the quality of the water it discharges into the River Don.