Costain to go tunnelling in £34M UU sewer overflow project
Costain is to carry out a £34M tunnelling project for United Utilities (UU) to help improve sewer overflows in Manchester. The completed project will form part of the Manchester unsatisfactory intermittent discharge (UID) strategy, helping improve water quality in the Manchester Ship Canal.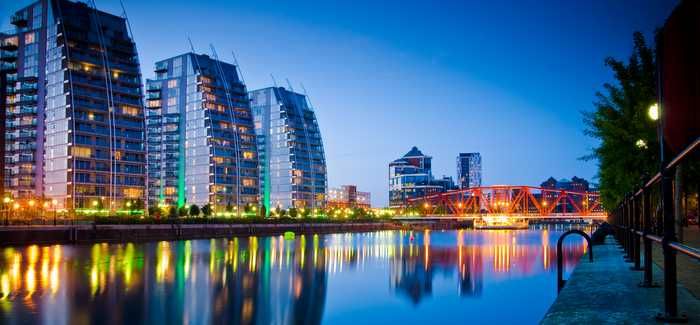 Work on a complex outfall structure on the Manchester Ship Canal will start while tunnelling is underway
The 1.8km-long tunnels, which are concrete lined at 2.1m and 2.85m internal diameters, are part of UU's scheme to clean up the Salteye Brook in Salford.
UIDs occur when the sewer network overflows to a watercourse when the system is overloaded, and the tunnels are designed to help prevent this by providing adequate storage capacity during heavy storms.
The tunnel route will begin at a location next to J11 of the M60, passing below and then parallel to the motorway and on into the Eccles wastewater treatment works. The tunnel alignment then heads under the M60 Barton High Level Bridge parallel with the Manchester Ship Canal, then past the Salford City Reds rugby stadium to a new outfall structure at the Port Salford Locks.
Work is expected to begin on the project in early 2015, with the construction of deep shafts and the tunnelling will commence Spring 2015, with an anticipated finish a year later.
While tunnelling is underway, work will begin on a complex outfall structure adjacent to Port Salford Locks on the Manchester Ship Canal. This part of the scheme is expected to be complete in Summer 2016.
The contract also includes M&E packages. 
Matt Crabtree, Costain water sector director, said: "The route crosses below the M60 motorway on and off slip-roads and the main carriageway at junction 11. It then crosses below the M60 Barton piers, narrowly avoiding raking piles from the bridge pier structures. We will continuously use the latest survey monitoring technology in real time to monitor bridge and highway structure movement before, during and after the TBM [tunnel boring machine] completes its journey.
"In order to ensure that there is minimal impacts to the sensitive Highways Agency structures, a large team of tunnel engineers will be working around the clock to ensure the project is completed successfully."