Costain goes for innovation on new Liverpool WwTW
Contractor Costain is meeting the massive challenges involved in building a huge wastewater treatment works next to a world heritage site though the innovative use of existing technology. GCA (Galliford Try, in joint venture with Costain and Atkins) is building the UK's first multi-storey Cyclic Activated Sludge System (CASS) sequencing batch reactor plant (SBR), in partnership with United Utilities (UU).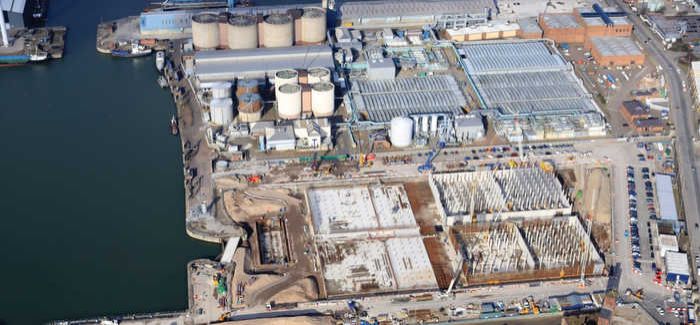 The innovative design will enable the plant to be decommissioned and removed without damaging the dock
The 16 basin, dual-level concrete structure has a 165m x 110m footprint and is 21m high. It is being built in the redundant Wellington Dock that lies inside a world heritage site buffer zone on the River Mersey.
Construction of the SBR structure is almost complete and the installation is well underway. Commissioning is expected to begin in October this year. When up and running by 2016, the plant will be capable of processing 4,750l/s of wastewater.
Use of Building Information Modelling (BIM) has enabled the designers to come up with a space-saving stacked design that allows the plant to fit inside the dock and minimises impact on the adjacent world heritage site. The innovative design will also enable the plant to be decommissioned and taken down at the end of the asset life without damaging the dock.
The design has also achieved a robust, flexible system. Its ability to run in different modes allows it to cope with varying flows of wastewater arriving at the works. It is also able to treat the maximum daily flow with only 14 of the available 16 basins in operation.
Maximum use has been made of precast concrete, resulting in reduced health and safety risks, significant time savings and more than £1M of cost savings. Other innovations include a high-efficiency aeration system which reduces the power required to operate the works and therefore the plant's carbon footprint.
Andy Fielding, innovation champion for Liverpool GCA JV, said: "Right from the outset the difficulties were apparent but the team has worked to overcome these issues, and by striving to use the best of existing technologies through an innovative approach, the project is well on its way to becoming a great success."