Corrosion challenge targeted with £3M investment
Global testing group Exova says it is responding to the global financial impact of corrosion in industry by investing in a new £3M dedicated centre in Dudley, West Midlands. Located in a new 2,137m2 purpose-built facility, the company said the Corrosion Centre will deliver a significant increase in its testing capability and capacity.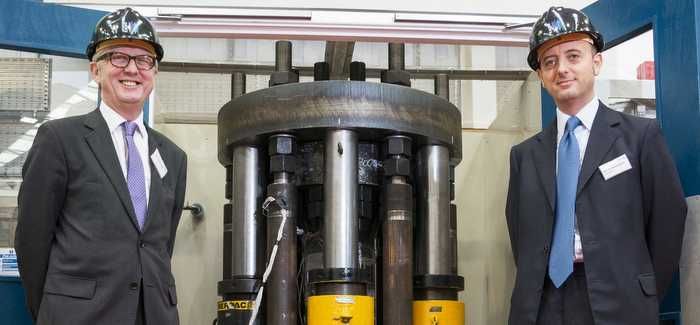 Ian Austin MP, left, officially opened the Corrosion Centre with Exova chief executive Ian El-Mokadem
It will also become the central hub for Exova's network of corrosion laboratories in strategic locations around the world, including the Middle East, US, Italy, Singapore and Norway.
Corrosion is estimated to cost governments and industry around the world as much as US$3 trillion annually.
The new facility, which replaces current premises in Dudley, will treble full-ring testing capacity; see autoclave capacity increase by two-thirds; and the capacity for routine corrosion testing doubled. The centre will also see the creation of an academy aimed at nurturing and training future generations of corrosion engineers.
Ian El-Mokadem, Exova's chief executive, said: "Exova has made significant investment during the last year to further develop our provision of technically demanding services to customers worldwide. Our new Corrosion Centre will play a lead role in combating a problem that poses significant technical, operational and financial risk to industries affected by corrosion.
"Dudley will connect a worldwide network of Exova's corrosion specialists, ensuring that we can meet our customers' technical and commercial ambitions wherever they operate in the world."
Chris Fowler, global director of corrosion at Exova and current president of the National Association of Corrosion Engineers International Institute, will lead the technical capabilities of the Exova Corrosion Centre.
He said: "The global cost of corrosion, at US$3 trillion, is equivalent to the GNP of the world's fourth largest country, but studies have shown that using existing technology we can reduce this by as much as 30%.
"Working together with industries including the oil and gas sector, we can take significant steps. The Exova Corrosion Centre is a significant investment in combating corrosion and creating a generation of experts who understand the vital role of corrosion management towards combating this international problem."
Speaking about the company's position in the water sector, Robin McGill, director of oil & gas at Exova, told WWTonline: "The financial and operational impact of corrosion is significant to the utility sector - in terms of potential loss of water, the associated environmental impact and cost of delivery to the consumer. The new facility is a global centre of expertise in corrosion which will work hand-in-hand with Exova's other labs around the UK to offer a range of technically demanding services, techniques and expertise relevant to the sector.
"Our Salford laboratory, for instance, and our lab in Holland, specialise in protective coatings, their testing and inspection. This is directly applicable to the water industry, and these services will be strongly supported and enhanced by the new Dudley capability.
He concluded: "The Corrosion Centre will lead the way in terms of research and working with industry to develop new techniques and testing methods. These co-development projects will also be of great interest to the water and utility sectors."