Construction starts on new flood defence for Ipswich
Work has started on a multimillion-pound tidal barrier that will protect Ipswich from future storms.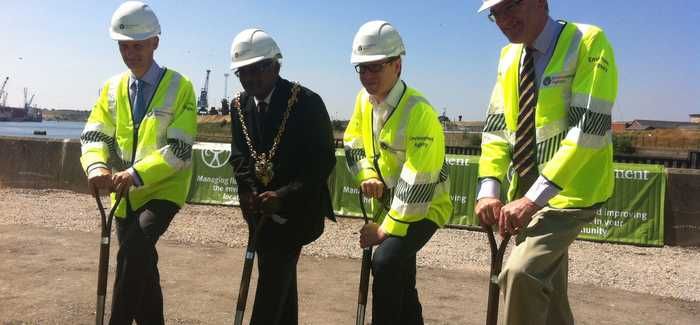 L-R: Dr Charles Beardall; the Mayor of Ipswich, Councillor Hamil Clarke; Ben Gummer, MP for Ipswich; and Mark Pendlington at the groundbreaking ceremony
The £38.3M scheme, which will be built over the next four years, will provide protection to Ipswich from a 0.33% (1 in 300) chance of flooding each year over the next 100 years, and takes into account climate change.
During a tidal surge the barrier will be raised to provide tidal flood protection to the centre of Ipswich. In addition, when the River Gipping is in flood it will be partially raised to reduce the bed of the New Cut scouring away.
At the groundbreaking  ceremony on Friday (July 19), Dr Charles Beardall, area manager for the Environment Agency (EA), said: "This barrier will provide increased resilience for Ipswich against future floods. It will enable growth and development, supporting the economic sustainability of this important county town.
"The flood defence will reduce the risk of flooding to many homes and businesses, plus key infrastructure such as the fire station and important power supplies."
Funding of the scheme will come from a Flood and Coastal Risk Management Grant in Aid of £6M; partnership contributions with the EA, Ipswich Borough Council and New Anglia Local Enterprise Partnership worth £7.7M; £6.6M from the New Anglia LEP; and £1.1M private investment. The remainder of the money will be provided by the Defra Growth and Acceleration Fund.
Environment minister Richard Benyon said: "This major investment is part of a £2.3B programme to tackle the risk of flooding and means that more money than ever before is being spent to better protect communities like Ipswich."
Mark Pendlington, board member for New Anglia Local Enterprise Partnership (LEP), said: "This is a much deserved boost for Ipswich.
"New Anglia LEP is pleased to be providing a £6.6 million loan to help put the tidal barrier in place, which along with government funding will safeguard 1,600 homes, 422 businesses and create up to 4,000 new jobs."