Completed pipeline reduces abstraction on River Kennet
Thames Water and Action for the River Kennet (ARK) have celebrated the completion of a £30M pipeline project which will reduce abstraction on the river.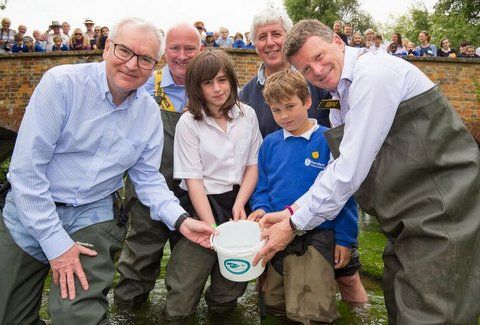 Thames Water CEO Steve Robertson (left) and Richard Benyon MP (right) releasing elvers into the river
Representatives from a range of organisations, including the Angling Trust and the Environment Agency, were present at an event in Mildenhall, Wiltshire to formally mark the commissioning of Thames Water's new Axford pipeline, running 17 kilometres from the company's Blunsdon reservoir north of Swindon, to Whitefield reservoir to the south-east of the town.
This latest piece of infrastructure will mean less water being abstracted by the water company – protecting the River Og and the River Kennet downstream of Marlborough during periods of dry weather.
Speaking at the event, Thames Water's CEO, Steve Robertson, said: "I'm delighted that our pipeline is now in and will prevent up to ten million litres of groundwater, which would otherwise feed the Kennet, being abstracted daily. While we're celebrating the end of this project, I want to be clear that this is the start of our journey, not the end."
He continued: "The work ARK is doing to bring key water issues to life is truly inspiring – especially among the younger generation. In campaigning on this issue in particular over the past 20 years, they've changed the way that we as a company think."
ARK Director, Charlotte Hitchmough, said: "We're delighted this new pipeline will protect the little River Og and the River Kennet downstream from Marlborough during low flows. Chalk streams are unique and important habitats and ARK has campaigned for more than 20 years to reduce the amount of water exported from these rivers.
She continued: "The pipeline is very welcome and we congratulate Thames Water and the Environment Agency for making it possible. We look forward to working with them to ensure a sustainable future for our rivers."
The pipeline, which saw engineers cross both the Great Western mainline and the M4, will see Ogbourne water treatment works replaced with a booster station, with another station constructed at Whitefield reservoir. Swindon's water supply will now be supported by both Blunsdon and Farmoor reservoirs, via the pipeline.
As part of the event, Steve Robertson was joined by school children from Ramsbury Primary School and ARK Chairman Richard Clarke to release baby eels, known as elvers, into the river.