Complaints to water companies rise
Written complaints from customers rose for almost half of the water firms in England and Wales in 2015/16, with some reporting substantial increases.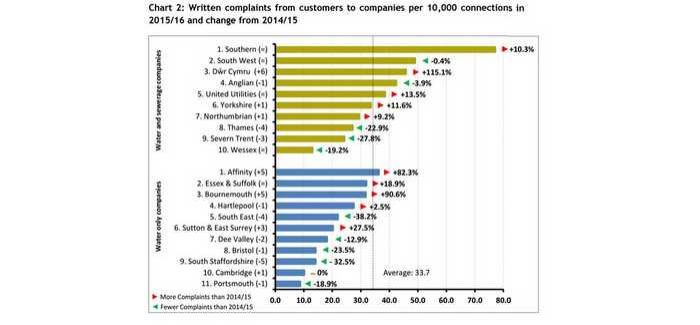 Complaints to water companies in 2015/6 (Source: CCWater)
The Consumer Council for Water (CCWater) has released its tenth annual complaints report. It revealed that although the overall number of written complaints to the industry fell for an eighth successive year, the decrease was a mere 0.5 per cent.
Ten water companies reported a rise in written complaints and five reported a rise in unwanted telephone contacts on the previous year. CCWater has warned the poorest performing water companies to improve their service.
The group said it is particularly concerned that the number of complaints from non-household customers is "well above" those from households in four of the five main categories, excluding metering.
"Service to non-household customers is an area which the industry must put right as a priority given the opening of the retail market in April 2017," it added.
CCWater chief executive Tony Smith said: "What is particularly alarming is the very substantial increase in complaints some companies have reported.
"We can't allow the good progress that has been made by the industry in recent years to be reversed. That's why we have asked four of the poorest performing companies to report to us by the end of October on what action they have taken, or are planning to take, to reduce complaints."
For the fourth consecutive year Southern Water was the worst performing company, with a level of complaint more than twice the industry average.
Problems caused by the introduction of a new billing system and more rigorous debt collection led to a doubling of complaints to Welsh Water.
Bournemouth Water also had problems with introducing a new billing system and customer complaints to the company increased by more than 90 per cent.
CCWater said: "We have stressed continually to companies that when they implement new billing systems they must ensure that they take all necessary steps to avoid customer detriment. It is not fair on customers that this issue continues to arise."
At the other end of the scale, Wessex Water remained the best performing water and sewerage company for complaints per 10,000 connections.
Portsmouth Water regained its position as the best performing water only company, overtaking Cambridge Water, which remains a "consistently good performer".
South Staffordshire was the third best performing water only company, recording fewer complaints for the fifth consecutive year.
-Tony Smith will be speaking at the Utility Week Water Customer Conference on 18 January 2017. Find out more at: http://events.utilityweek.co.uk/water/