Companies need to 'step up' on innovation - Ofwat's Pheasey
Water companies must embrace a culture of innovation to solve the industry's biggest issues, Ofwat's Carl Pheasey told the 2018 WWT Water Industry Technology Innovation Conference yesterday (27 November).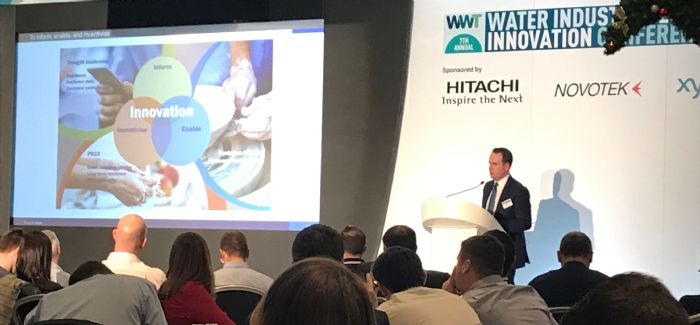 The regulator's director of strategy and policy told delegates that hard engineering solutions would not be sufficient and that creative thinking is needed across a wide variety of areas, including technology and data.
The Government last month launched a consultation on encouraging innovation in regulated utilities and Pheasey said that was "a marker of the level of interest among ministers of seeing these industries demonstrate a clear increase in productivity and innovation".
He said that while innovation was one of the four core themes for PR19, Ofwat also wants to see it applied across its other key topics – resilience, customer service and affordability – and that the concept needs to be fully embedded into companies' work culture.
"There's lots going on in this space," he said. "We're already continuing to progress thinking about innovation and we now really want to see the industry step up and demonstrate that it's solving some of the cultural problems on innovation."
Pheasey said there can be a tendency for those outside the sector to see innovation almost exclusively in terms of cutting leakage but that it is important to implement the concept when trying to address other key issues, including driving down per capita consumption (PCC).
As such, he said there is a need to combine "hard engineering and technological solutions with innovative demand management and customer behaviour-type innovations and solutions".
He continued: "Since 2000, demand for water in the South East has remained fairly flat even though population has increased quite substantially. I don't claim to fully understand the dynamics, but it's clear that it flows in part from a combination of efforts to reduce demand, technological innovation in terms of household appliances, and also efforts to increase metering penetration in the region.
"The lesson is that, over the long-term, hard engineering solutions won't be sufficient if you want to make in-roads into the problems that there is now a lot of political focus on. A combination of gaining a better understanding of consumer behaviour and technological innovation, such as better ways of detecting and fixing leaky mains, is going to be required."
He said that reflects the importance of making better use of customer data and highlighted the regulator's 'Unlocking the Value in Customer Data' report, which was published last year.
"That was a reflection of our slight frustration that we didn't see a lot of evidence of companies applying the lessons that are increasingly coming from other sectors such as financial services," he said.
"There has been a significant increase in the availability and exploitation of customer data in other, more competitive customer-facing sectors and we see real benefits not only in solving some of those operational problems but also in terms of providing better service and making better use of the data at your fingertips.
"Increasingly, we see there being scope for water companies to share. Over the last year or so, we've been facilitating a discussion between companies on exploring opportunities for opening up some customer data and I think those discussions are now moving onto sharing operational data. We want to see those discussions continue because we think they stand to have really significant impacts on operational and customer service issues."
He said Ofwat had adopted an "inform, enable and incentivise" approach to innovation and added: "Innovation has been a clear theme of PR19 and will be a clear theme for us going forward."
The 2018 WWT Water Industry Technology Innovation Conference was sponsored by Hitachi, Novotek and Xylem