Collaboration needed on resilience, says Anglian's Spencer
The water industry and other stakeholders need to work together on a twin-track approach to drought risk, combining demand management and resilience measures, Jean Spencer, Director of Strategic Growth and Resilience at Anglian Water, told the WWT Sustainable Water conference in Birmingham.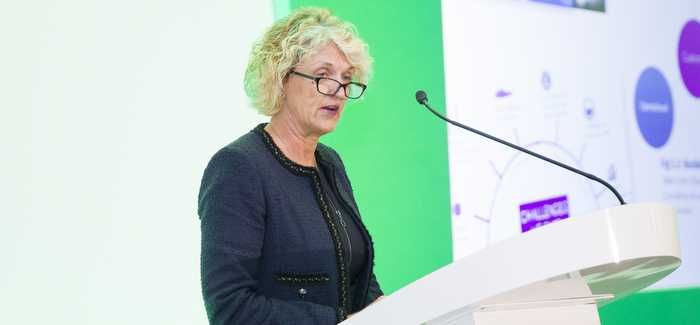 Spencer, who chaired the steering group that helped create Water UK's Water Resources Long Term Planning Framework, told the conference in Birmingham that the recent years had revealed the risk of drought to be larger than previously thought, and that a severe drought would impact the economy to the tune of £1.3BN a day. A continued focus on demand management – making the most of the resources available by managing down customer usage and leakage – is necessary but not sufficient, which is why the industry needs to collaborate on water transfers and other measures to build resilience.
"We need to work together, as it's only through this collaboration that we will get the resilience that we need for a thriving environment and economy," said Spencer. "The risk of drought is larger than we thought and we need to act now."
Since privatisation the water industry has been putting broadly the same amount of water into supply, despite the rising population, which highlights the continued importance of demand management in ensuring a sustainable water supply, she said.
Anglian's recent customer engagement exercises have shown that customers are willing to pay more to build drought resilience and also to modify their own behaviour. Of over 4,300 customers quizzed on the issue, 74% said they would willing to pay more for their water company to boost drought resilience and 64% said they would use less water if required.
Spencer also called for collaboration with developers, drainage boards and local authorities on building resilience; she referred to Anglian's leading role in the regional water group Water Resources East, and spoke about plans to turn the town of Wisbech into a 'garden town' featuring green development and water efficient new houses.
"We need to recognise that we don't operate in isolation in the region that we provide water services. Many stakeholders have an interest in water and to achieve true resilience we need to work together," she concluded.
On the specific question of water transfers and trading, it was noted that only 4% of water currently crosses water company boundaries, and there was great potential for increasing this in times of need if practical and administrative obstacles can be overcome.
"Intra-company transfers, moving water company between catchments, happens all the time, but inter-company transfers are rare," said David Elliott, Group Strategy and New Markets Director at Wessex Water. "That tells me that water trading is an administrative challenge, not a technical one. The key is to unlock that potential."
Long term resilience will be one of the four main themes of the PR19 price review, together with customer service, innovation and affordable bills, Colin Green, Director, Water 2020 at Ofwat, confirmed in his presentation at the event.
WWT's Sustainable Water conference 2017 was held on September 20th in Birmingham in association with Anglian Water and sponsored by CH2M.