Coal Authority picks STS and JN Bentley for mine water treatment work
Severn Trent Services (STS) and JN Bentley have both picked up multimillion-pound contracts with the Coal Authority to protect environment from polluted water from disused coal and metal mines.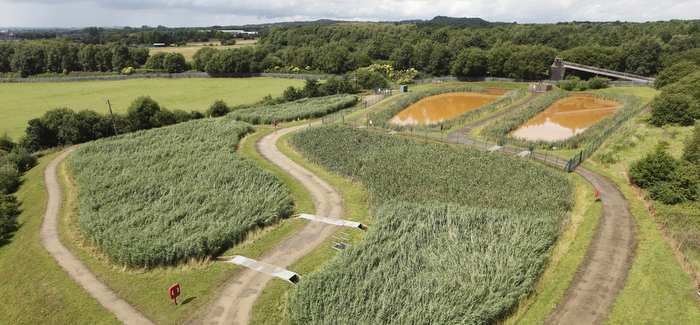 The Hockery Brook mine water treatment scheme is one of 82 nationwide that the Coal Authority has
STS' ten-year deal, worth a minimum of £25M with a likely overall contract spend in excess of £50M, will see the company operate and maintain the Coal Authority's 82 mine water treatment schemes, pumping stations and mine gas facilities in Britain, as well as new schemes to be built in the future. Civil engineering firm JN Bentley has a four-year framework agreement,  with an expected value of between £2.5M-£4M a year, to design and construct new mine water treatment schemes.
All three companies will work together using a new partnership approach focusing on continuous improvement through the design of innovative and sustainable solutions. Partnership working will take place from concept through to the construction and operation of each mine water treatment scheme.
The Coal Authority's existing schemes prevent more than 4,000 tonnes of iron solids from entering Britain's watercourses every year. They also protect a number of the nation's drinking water aquifers from pollution from rising mine waters. The authority recently built its first mine water treatment schemes to address pollution from metal mines, at Force Crag in the Lake District and at Saltburn Gill in North Yorkshire.
Simon Reed, chief operating officer at the Coal Authority, said: "The procurement process has been extremely competitive and we received many high quality proposals. We are delighted to announce that we will be combining our expertise with that of Severn Trent Services and JN Bentley to continue to resolve the impacts of mining on the environment. Our programmes for addressing water pollution from both coal and metal mines will be enhanced as we work together to deliver innovation and schemes with strong economic and environmental benefits."
Andy Smith, managing director, Business Services at STS, said: "Securing the contract against such strong competition and to such exacting standards is a major achievement for our team. We very much look forward to working closely with the Coal Authority and JN Bentley to ensure the best possible outcomes for the nation, including some of Britain's most treasured landscapes."