Clugston Construction awarded Knostrop WWTW contract
Clugston Construction has been awarded a £14.9M contract by the Amey Black and Veatch Joint Venture to provide Civil Engineering services at the Yorkshire Water, Knostrop waste water treatment works in East Leeds.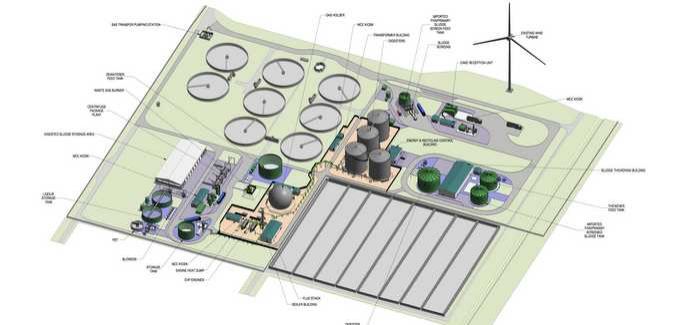 A 3D drawing of the Knostrop waste water treatment works in East Leeds
The multimillion pound investment by Yorkshire Water, when complete in October 2017, will treat 30,000 tonnes Dry Solids (TDS) of sludge annually and will process the sludge into a renewable energy source.
As part of the Knostrop Sludge Treatment Facility, biogas produced by the anaerobic digestion process will power two CHP engines of 2000KW each, which will provide electrical power for the site or for export, dependent on demand. Any waste heat is recovered to heat the digesters and provide heat to the Liquor Treatment process.
Under the subcontracted package of work, Clugston will carry out ground preparation and stabilisation, involving recycling of existing concrete structures and installation of 300 CFA piles. This will be followed by construction of the foundations for tanks, control buildings and installation of ductile iron pipework and cable ducting.
Along with a new central process building, Clugston will also be responsible for installation of 15,000 square metres of link roads and 10,000 square metres of hard standing.
With the new facility located alongside the existing treatment works, careful planning and safety management will be required.
Commenting on the contract Steve Radcliffe, Clugston's managing director, said: "it is really welcome news to have won this work in Leeds as it marks a return to the water sector after many years' absence."