Clancy Group names Cannon as new CEO
Clancy Group PLC has announced that its board of directors is appointing Matt Cannon as chief executive officer.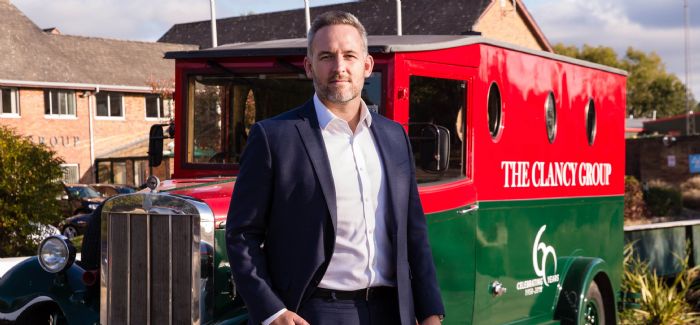 From 1 February 2019, Cannon will take responsibility for leading the Clancy Group's operating companies, Clancy Docwra Ltd and Clancy Developments Ltd, as well as Clancy Plant Ltd, which is held separately.
He will replace Seamus Keogh, who will leave the business at the end of March 2019 after nearly 20 years on the board but continue to act in an advisory role.
Cannon represents the third generation of the Clancy family to take the helm at the group founded by his grandfather, Michael Clancy, in 1958. He first joined the group's civil engineering business, Clancy Docwra, in 2004, working across key clients including Thames Water, Anglian Water and South East Water before becoming chief operating officer in 2016.
Prior to joining the business, Cannon enjoyed a successful career as a professional rugby union player for London Irish and represented England Sevens.
"At The Clancy Group we are incredibly proud of our 60-year success story, underpinned by strong long-standing relationships with our customers, exceptional workmanship and a fantastic team," Cannon said.
"My focus will be leading the board to build on these strengths, deepening existing partnerships and developing new ones across our core markets, supporting our customers, and securing our own future growth.
"The Clancy Group is a family and I am very proud to follow in my grandfather's and my uncles' footsteps. They have built a fantastic business and it is a privilege to be given the opportunity to undertake this role."
At the same time, The Clancy Group PLC has announced the appointment of Ian Gray as its first independent non-executive director.
Gray brings significant expertise in advising businesses in a series of senior roles. Starting his career at Grant Thornton, he undertook a number of senior finance roles, including becoming CEO of Tottenham Hotspur in 1990.
Since then he has supported over 50 organisations around the globe as chairman, non-executive, CEO, executive director or strategic advisor. He is the chairman of Avicenna Holdings, Canburg and Atlantic Productions as well as a non-executive director of DX (Group) plc, Holyhead Boatyard and Alchemy VR.
The new appointments build upon a wider restructure within the group, including the recent appointments of Nick Blaber as chief financial officer and Jon Loveday as chief commercial officer.
The Clancy Group PLC's joint chairmen, Dermot and Kevin Clancy, said: "These changes pave the way for the next generation in the Clancy Group's journey, ensuring we have the team and experience in place to support our vital work of building and maintaining the UK's national infrastructure.
"Our business model of directly employing our workforce sets us apart from the majority of our competitors and those services are in high demand as we enjoy a record secured order book of £1.2 billion.

"On a personal note, we wish to thank Seamus Keogh for his huge contribution to the business over the last 30 years, including nearly 20 on the Clancy Docwra board. His leadership has been key to our success and has ensured we are well-positioned for the future."

The Clancy Group Plc is one of the largest privately owned civil engineering firms in the UK, with a workforce of over 2,500 people working across the group in the utilities infrastructure, property development, plant hire and traffic management sectors.