Campaigners apply for judicial review against Thames Tideway Tunnel
The Thames Tideway Tunnel project is facing a possible legal challenge after campaigners lodged an application for a judicial review against the decision to award it planning permission.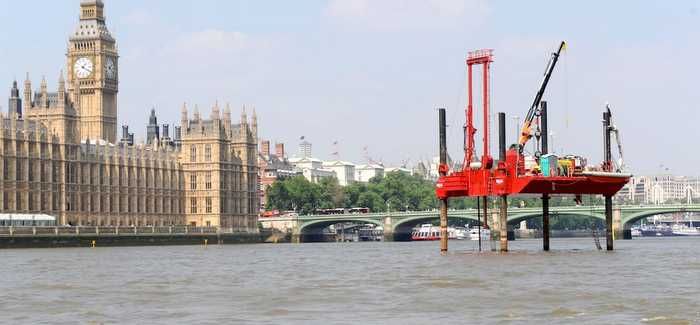 The Thames Blue-Green Economy, a pressure group opposed to the project to build a £4.2BN 'super-sewer' underneath the Thames, applied to the Royal Courts of Justice for the review on Friday, the last day for making such a request. The court will be asked to review the decision by the government to grant a Development Consent Order (DCO) for the tunnel in September.
The group are claiming that the decision was made in breach of requirements in British and EU law for a meaningful consultation with the public. It wants alternative drainage solutions to be investigated which would capture rainwater locally rather than allowing it to enter the sewers.
"The TTT project will turn fresh rainwater into sewage at vast public expense and environmental damage," Thames Blue-Green Economy claimed in a statement.
The scheme will see a 25km tunnel dug under the Thames which will capture CSO discharges that currently flow into the river during times of heavy rainfall.
Thames Tideway Tunnel Ltd said that it was aware of the legal challenge but that work would continue on the project and that it was "business as usual".
A spokesman for the Department for Communities and Local Government said: "This is a challenging infrastructure project, but it is clear that the Thames Tunnel will help modernise London's ageing Victorian sewerage system, and make the River Thames cleaner and safer.
"The substantive planning decision was made by ministers after careful consideration of all the representations."
Thames Blue-Green Economy, which is led by veteran ecological campaigner Lady Dido Berkeley, describes itself as "a broad group of independent experts - including engineers, politicians, lawyers, economists, financiers, journalists, architects, landscape architects, Climate Change scientists, Public Health advisors and environmentalists – whose objective is to halt the Thames Tideway Tunnel project, so that a cheaper, quicker, lower risk, and more sustainable solution to dealing with London's excess rainwater can be implemented and effective immediately without waiting another 10 years, an option which has been fiercely opposed by government to date".
It is understood that the London Borough of Southwark has also asked for a judicial review of the planning decision. It had opposed the sites chosen for the drilling work on the project on the grounds of the disruption caused to residents.