Cambridge treatment works to receive nitrate solution
A Cambridge Water treatment works is to become the latest to be fitted with Nitreat ion exchange nitrate removal, bringing to 30 the number of plants deploying the technology.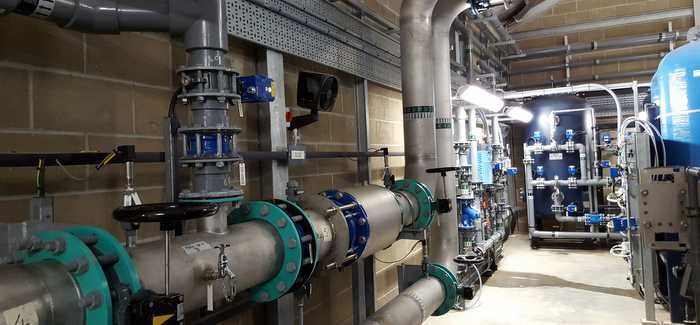 Fowlmere WTW is one of three design and build contracts for nitrate removal recently awarded to water and wastewater solutions provider ACWA Services, with a value in excess of £3M.
The plants will use ACWA's ion exchange Nitreat technology, already deployed at 27 water treatment works in the North and East of the country to ensure drinking water quality in line with DWI quality targets, within Nitrate Vulnerable Zones (NVZ).
For lead contractor Integrated Water Services (IWS) work is due to commence at Cambridge Water's Fowlmere WTW to the south of Cambridge in September. The new plant, which follows the completion of projects for Cambridge Water at Babraham, Euston and Fleam Dyke, is designed with sufficient capacity to treat a raw water flow of 5,400m3 per day from onsite boreholes, reducing nitrate levels of 79.6mg/l to produce a final blended water flow with nitrate levels at 43mg/l.
For all three projects ACWA is responsible for process, mechanical, electrical and instrumentation works, through to commissioning. The solution at Fowlmere WTW will incorporate a single Nitreat skid complete with transfer pumps, self-backwashing micro strainer, a duplex water softener system, brine system for regeneration (with a single salt saturator located outside within a bunded area), waste tanks plus interconnecting pipework and valving along with a dedicated MCC control panel and associated cabling. IWS will also be responsible for civil works including the treatment building and work is expected to be completed in June 2018.
ACWA's Nitreat system is a counter current continuous Ion Exchange process for nitrate removal utilising a patented multi-port distribution valve. This distributes the feed and regeneration flows to multiple resin pressure vessels within the system.
The benefit of this approach, aside from its small footprint, is that it replaces traditional 'batch' treatments requiring 'Standby' resin vessels. Instead all aspects of the process - adsorption, displacement, brine regeneration and regeneration rinse - operate continuously within a single process stream.
Waste production is also a fraction of that of conventional plants, typically less than 0.5% of the works flow compared with up to 10% for some systems and the system is also able to cope with large variations in flow and nitrate levels.
Commenting on the new contracts Peter Brewer, ACWA Services' UK General Manager said: "Our 30th contract for Nitreat marks a great start for 2017. The system is already bringing significant operational benefits for our UK water industry customers and full compliance with water quality standards. Rising nitrate levels are a continuing issue and through a programme of continuous improvement we are working hard to ensure highly reliable, low cost solutions to meet demanding cost efficiency objectives and rigorous discharge limits."