Californian sun to power water treatment
A large scale floating solar panel array road tested in the South Australian Outback is set to soak up the Californian sunshine. The City of Holtville has signed an agreement with Australian company Infratech to manufacture the one megawatt floating solar system including 3,576 panels, 276 rafts and 12 treatment pumps.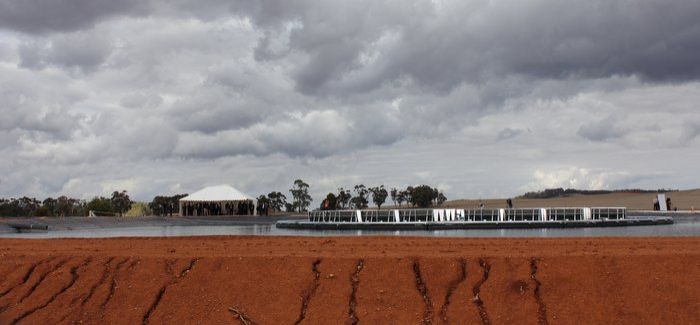 It will float on the surface and power a new water treatment plant to be used for the town's drinking water supply and irrigation. The system will also significantly reduce evaporation and decrease the reliance on chemicals such as chlorine to treat the water.
The photosynthesis process that creates blue-green algae will be limited by the shade provided by the panels, which will also keep the water cool and further raise its quality.
Holtville Council member David Bradshaw, who also serves as the assistant water manager for community-owned utility Imperial Irrigation District, said the deployment would allow Holtville to save valuable agricultural space for farming while reducing its reliance on fossil fuels. "Our decision to use Infratech's floating solar system means we are not losing valuable farmland to massive solar farms; we can use three existing ponds and save our soil for increasing our capacity to produce crops," he said.
"We're in the desert, and we lose more than five feet of water a year to evaporation while typically only receiving around three inches of rain annually. Also, our main source of water, the Colorado River via the Hoover Dam, is currently in drought.
"Our residents use the water for drinking and irrigation, so this installation means the quality and taste of that water will improve while also ensuring we are on our way to meeting California's renewable energy target of 50% by 2030."
The floating system can shift on the surface in the instance of seismic tremors and is purpose-built to withstand waves. The system is expected to be fully installed and operational by mid-2016.
Infratech this year opened its first floating solar system at Jamestown in the mid-North of South Australia. The 300kg Jamestown floating solar array is putting renewable energy back into the local grid and powering the council's water treatment facility. It is the first of its kind in Australia.
The Infratech system claims to generate more than 50% more energy than rooftop solar systems to deliver consumers a saving of up to 15% on regular electricity prices.