Cabinet secretary checks out Scottish Water's Elmvale Row scheme
The Scottish government's cabinet secretary for Infrastructure, Investment and Cities, Keith Brown MSP, has been visiting Scottish Water's £12M Elmvale Row scheme to tackle sewer flooding in the area. The project is part of the company's £250M, five-year upgrade of the Greater Glasgow area's wastewater infrastructure in more than a century.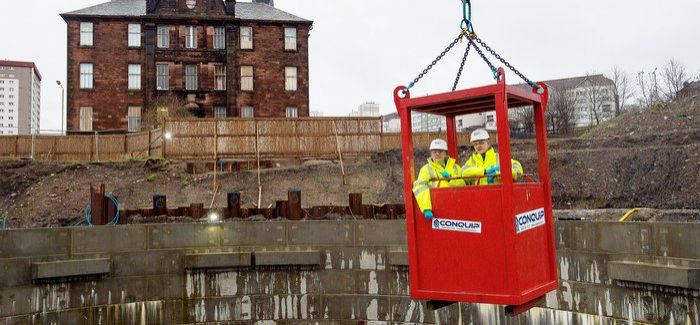 Keith Brown MSP (left) with Geoff Aitkenhead
The Elmvale Row project comprises the construction of two massive storage tanks, each 25m in diameter and 18m deep, that will provide 13,500m3 of extra storm water storage in the local sewer network.
Brown said: "This project is a key part of Scottish Water's massive investment in the wastewater network across Greater Glasgow to improve the water quality in the River Clyde and its tributaries and to address sewer flooding. I'm pleased that this project is progressing well and will provide much needed relief to those in this area who have been affected by regular floods in the past. It demonstrates Scottish Water's commitment to tackling these problems and the Government's support for this kind of investment to address flooding issues."
A number of properties in the Elmvale Row area have suffered from flooding over several years and the tanks, which are being installed in open ground adjacent to Elmvale Row, will provide storage in the combined sewer network to reduce the risk of flooding in storm conditions.
Pumps are being installed in the tanks to form a storm return system, which will return the storm water stored in the tanks back into the sewer system once the storm conditions have abated. The project also includes the upsizing of about 400m of wastewater pipes in Elmvale Row, Elmvale Street, Ratho Drive, Fernbank Street and Hawthorn Street.
The project, which is being carried out by amey Black & Veatch (aBV), is expected to be completed later this year.
Geoff Aitkenhead, Scottish Water's executive director of capital investment, said: "We're making good progress with all of this investment in the Greater Glasgow area's wastewater infrastructure, the biggest in living memory. The environment and communities throughout Greater Glasgow will benefit hugely from this because it will protect the natural environment and meet the needs of growth, economic development and regeneration for many years to come."
Some major projects in Scottish Water's investment have already been completed and preparatory work for others is well under way, including the £100M Shieldhall Tunnel, which will improve water quality in the River Clyde and its tributaries and provide aesthetic screening to overflows into these watercourses. It will alleviate pressure on the existing network by providing additional storm water storage and will reduce the risk of flooding in parts of Mount Florida and Giffnock.