Burdens opens door to the future
Civil engineering products specialist Burdens has opened a new flagship branch in Hailsham. The launch event was supported by key suppliers such as GPS, Saint Gobain PAM UK, ACO Marshalls, and Polypipe Civils, who displayed their latest technologies and innovations.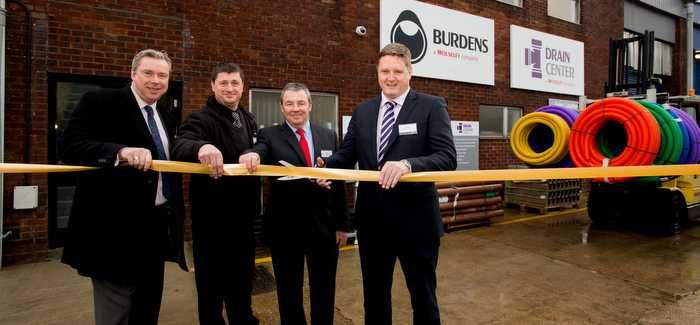 Burdens new branch is declared open by (left to right) Mark Shearer and Shaun Irvine from Burdens, Dave Wakelin of Drain Center and Alan Long, also of Burdens
Burdens became part of Wolseley UK in 2012 after it fell into administration. The branch is the first to feature Burdens' new branding and is now co-located with the Hailsham Drain Center branch.
Alan Long, trading director, Burdens said: "The opening of Burdens Hailsham was a fantastic chance to show-off our new branding and unveil our vision for future growth. This is a new era for Burdens.
"We have an exciting growth strategy, a brand new look and a strong partnership with Drain Center. We look forward to achieving our goal of becoming a market leader and building on new and existing customer and supplier relationships."