British Water Prize winner lands job with award sponsor
One of the winning team from this year's British Water Prize has been given a job with the award sponsor, Mouchel.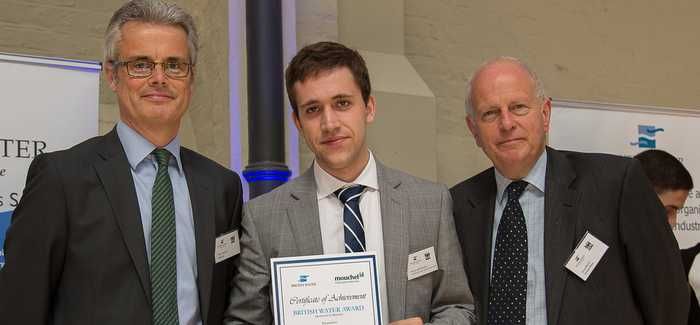 Héctor Adell Troncho accepts the award from Lloyd Martin (r), Chief Executive of British Water, and Miles Barnard (l), MD of Mouchel
Héctor Adell Troncho was part of a team whose project on micro-bubbles won the annual challenge to postgraduate students at Cranfield University. As well as winning a cash prize the postgraduate student was also offered a job as a wastewater modeller with infrastructure consultancy Mouchel.
Troncho was part of a team of four students from Cranfield University who created the winning entry. The challenge, set by Anglian Water, was to carry out research into the potential use of micro-bubbles in the wastewater industry. The winning team looked at the potential of micro-bubbles to remove iron and manganese from wastewater.
The award was presented at the annual British Water lunch, held at the Honourable Artillery Company on 15 June 2016.
Lee Horrocks, a director of Mouchel in the UK said: "The winning team was invited to Mouchel headquarters in London, which was when we realised that there might be a place for Héctor Adell Troncho with the company. I hope very much that we can continue with this two-way beneficial sponsorship in future years."
The former postgraduate began working with Mouchel at their office in Sutton Coalfield in October.
Héctor Adell Troncho said: "It was great to win the competition and I am very happy to have found my first job as a result. I hope this encourages other students to take opportunities like the British Water Prize which bring students into contact with industry."
Lloyd Martin, Chief Executive of British Water added: "Competitions such as this are a great way to encourage the bright young talent of tomorrow and to strengthen links between academia and the water industry. The British Water Prize is part of an on-going relationship with Cranfield University Water Sciences Institute, which has a well-deserved reputation for excellent and groundbreaking work.
"British Water was delighted to hear that taking part led Héctor Adell Troncho to find his first job."