Boost to professional development of water scientists
Scientists working in the water sector can now enhance their professional and career development through a new licence awarded to the Institute of Water (IoW). The Science Council has awarded the licence that permits the IoW to register Chartered Scientists (CSci) in the culmination of a two-year programme working closely with Anglian Water, the Drinking Water Inspectorate (DWI) and the Science Council.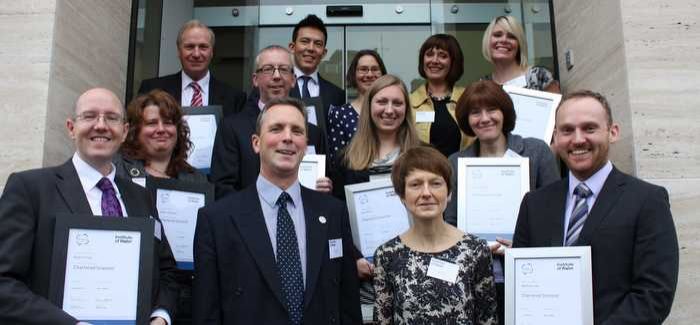 The first 14 Chartered Scientists registered by the Institute of Water join regulators and Anglian Water chief executive Peter Simpson at a special Science Council event
The licence was launched on December 9 at the Science Council, where 14 of the first Chartered Scientists were presented with their certificates. The IoW already offers Chartered Engineer and Chartered Environmentalist registrations and the organisation says the addition of Chartered Scientist to this portfolio strengthens its position as the only organisation which exclusively supports the career development of anyone working in the water industry.
Anglian Water's chief executive, Peter Simpson, said: "Improving individuals' professionalism is part of the Anglian Water journey to ensure that teams, including our scientists, achieve and are recognised for their high level of competence. Being chartered is a statement about where the individual is, but is not the end of the journey. It marks the start of a further commitment to remain up to date with knowledge and understanding."
Marcus Rink, deputy chief inspector - operations, DWI, said: "Chartered Scientist status provides the foundation upon which skills, knowledge and experience may be continually acquired and upon which professionals within the water industry can demonstrate their competence in the provision of wholesome water. As a water quality regulator I welcome this initiative."
Diana Garnham, chief executive of the Science Council, said: "It was exciting to see such a wide range of different scientist roles as well as both regulators and the regulated receiving Chartered Scientist certificates." 
Robin Price, regional quality manager at Anglian Water and vice president science at the Institute of Water, was the first to receive his certificate. He said: "I am delighted that the Institute is now able to offer such an important registration. There are thousands of scientists within water companies, regulators and across the supply chain and it's great that we can now help to further enhance their professional development and their careers."
The Institute of Water is looking at further opportunities to support the development of scientists at every level within the industry, with the planned addition early next year of Registered Scientist and Registered Science Technician registrations.
Price added: "The addition of these further registrations will mean that the Institute of Water really will be able to offer clear professional development opportunities for every scientist in the water industry."