Bluewater Bio wins South West Water contract for Newquay STW
South West Water will install Bluewater Bio's HYBACS enhanced activated sludge process to upgrade its Newquay sewage treatment works.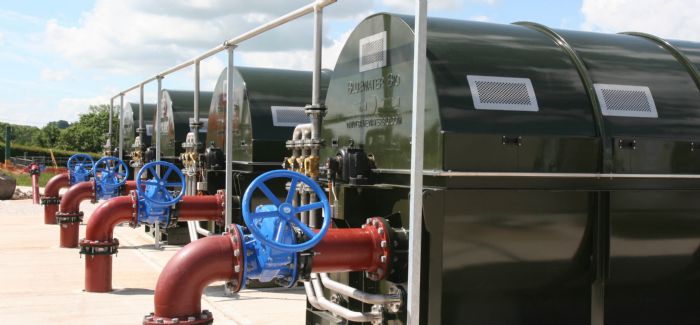 Bluewater Bio's SMART units will be installed at Newquay sewage treatment works
The site, which serves Newquay, Crantock and Porth, has a catchment area covering a major tourist destination with popular beaches. Built in the 1990s, the existing plant treats a resident population equivalent of approximately 55,000, but during the busy summer months the works can receive an additional 40,000-50,000 PE.
The upgrade at Newquay will include the installation of four SMART units to convert the existing conventional activated sludge process into a HYBrid ACtivated Sludge (HYBACS) configuration.
Through the installation of SMART units upstream, greater biological loads can be treated within the existing aeration volume and the seasonal demand increase economically addressed. The rapid settlement characteristics of the HYBACS mixed liquor also further alleviates any downstream overloading of the clarifiers.
The existing works at Newquay consists of primary settlement, an oxidation ditch with a small selector tank and two final clarifiers.
The highly seasonal demand increase is an annual challenge for South West Water's operations teams with populations sometimes doubling over a bank holiday weekend. The original works was designed to cater for modest amounts of load fluctuations but preparing a biological process for a rapid change in load remains a significant operational challenge.
South West Water's delivery partner Tecker will construct the pumping arrangements in such a manner that the units can be fully installed off-line, meaning treatment process remains fully functional during construction.
Fergus Rooksby, commercial director of Bluewater Bio, said: "We look forward to working with South West Water in helping them alleviate the seasonal demand increase at their Newquay sewage works.
"HYBACS will provide a significant uplift in treatment capacity within a relatively short timescale, without impacting on the works. HYBACS' ability to increase capacity swiftly and simply, with minimal operator intervention makes it an ideal solution for SW Water and their delivery partners.
"Additionally, the scalability of the process means that SW Water can promptly and effectively respond to any changes in seasonal population volume, and therefore loading, into the works."