Biwater wins US design-build award
Surrey-based water engineering company Biwater has won a top award from the Design-Build Institute of America. The water treatment plant expansion in Dania Beach, Florida, included the design and build of 7.6Ml/d reverse osmosis and nanofiltration (RO/NF) water treatment plant, which improves upon existing 11Ml/d aging lime- softening water treatment facility.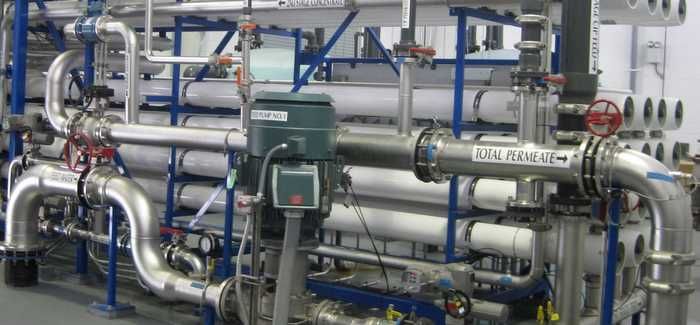 One of two 2.8Ml/d day 92%-recovery reverse osmosis / nanofiltration trains
The award, under the Water/Wastewater Projects category, highlighted the use of innovative technology that responds to variable water quality. It also recognised the flexibility in the system design, which maximises recovery, running at up to 92%, and significant improvements in water quality and colour achieved.
Engineering consultancy CDM Smith used Biwater's technical expertise to design and build one of the most advanced membrane systems to date.
Richard White, senior vice president, Biwater AEWT, which handles the company's desalination activities, said: "The success of this project was realised through the continued efforts of the Biwater team on the ground, working together with CDM Smith. In assessing the needs of Dania Beach, and supporting the city and the design-build team with its endeavours to balance and improve water quality for the growing local population, Biwater developed a staged treatment system with the flexibility to treat variable quality water sources."
He continued: "We worked closely with CDM Smith as they progressed the project to complete it on a fast-track basis, delivering sound results."
The variable quality water sources of Dania Beach wellfield and Broward County wellfield required a solution allowing for maximum flexibility. As such, depending on the quality of the sources at any one time, the system can reconfigure, maximising system recovery and reducing operating costs.
The staged system approach developed for Dania Beach was made up of a two-stage NF membrane system with convertible third and fourth stage RO units to run at up to 92% recovery to meet concentrate disposal restrictions.
The work has significantly increased capacity beyond that of the existing 11Ml/d aging lime softening water treatment plant, while improving water quality and colour. During periods of peak demand, it has reduced the city's need to purchase treated water from further afield.
Overall, the project will accommodate the city's requirement for potable water as it continues to grow and develop over the next 20 to 30 years. In addition, it is one of the first water treatment plant buildings to achieve enough credits to become Leadership in Energy & Environmental Design (LEED) certified through the US Green Building Council.
The award will be collected in a ceremony on November 5 in Las Vegas.