BIM's asset management benefits being missed - BIM4Water chair
The water industry needs to take significant steps forward in digitising asset management information if it is to reap the real benefits of BIM, delegates at the 2019 WWT Wastewater Conference heard.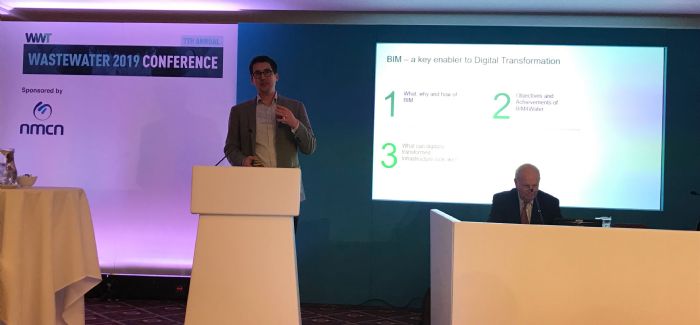 BIM4Water chair Simon Kerr addresses delegates at the 2019 Wastewater Conference
Mott MacDonald digital delivery principal Simon Kerr, who chairs the BIM4Water group, said the water industry has become highly effective in delivering new assets through digital engineering and adopting approaches such as alliances, early contract involvement and Design for Manufacture and Assembly (DfMA).
However, BIM4Water has estimated that just 20 per cent of BIM's benefits come in the design and construction phase, with the remaining 80 per cent available once the asset has been handed over and is in use.
"BIM is about looking not only at the lifecycle-of-project information but the whole-lifecycle-of-asset information," Kerr told delegates in Birmingham.
"Within the water sector, we've got roughly £350 billion worth of assets that are in use, and we're adding to it at the tune of around £2 billion a year. In short, we're not going to be able to build our way out of trouble this time – we've got to manage those existing assets in a smarter way."
He said asset information is "typically in a pretty poor state" and that, while there are many streams of data coming in, they can fail to deliver many of the insights that are required.
"We may typically know when the asset is turning on and off, what part of the network it's in, how much it costs to run, what our customers are thinking about it and that sort of thing, but in my experience we don't know with any confidence what that thing actually is, what it was designed to do, exactly where it is or where our spares are for it," he said.
"What we need then is a consistent, structured approach to procuring the digital asset along with the physical asset to maximise the value. This is where we need BIM – this is what BIM was designed to do."
BIM4Water has been making efforts to define standard product data templates that can be shared throughout the industry and provide the non-graphical information that sits behind the BIM model.
Kerr also called on the sector to unite behind the various existing standards such as BS 1192, which introduces the concept of Common Data Environment and a standard file-naming convention, and PAS 1192-3, which is the specification for information management for the operational phase of assets using BIM.
He said that while BIM is now evolving towards the international ISO 19650 standard, it is built on the same principles.
"With BIM, we've been blessed with a set of world-class standards and the UK has been at the forefront of determining what BIM means," he said. "It's a great set of standards. Let's just use them."
The hope is that, as the industry enters AMP7, it will progress towards a standardised approach that can be shared and understood by everyone in the process.
"Smart infrastructure is about bringing together the physical world and the virtual equivalent but, unless you're building it on solid foundations of asset information that you know to be correct, it all falls apart," Kerr concluded.
Gary Ross, head of digital transformation at nmcn, spoke at the conference about his company's efforts to bridge the gap between BIM levels 2 and 3.
While there is no formal definition for level 2, it involves accurate federated model information being shared within a Common Data Environment. Level 3, meanwhile, has yet to be firmly defined at all, although it is understood to refer to information relating to assets that are already in the ground.
"BIM level 2 is the level the water industry aims to be at, and nmcn achieved the accreditation in July last year," Ross said. "For BIM level 3, it just doesn't give you any clues for what that looks like and what we need to achieve.
"Everybody thinks they know what level 3 will look like – it'll be smart cities and smart infrastructure and those sorts of things – but nobody knows how we get there."
As a result, nmcn has developed 'BIM level 2+', which involves 10 dimensions:
1D: Process and governance
2D: Drawings from 3D models
3D: Models
4D: Integrated time planning
5D: Integrated cost planning
6D: Integrated environment
7D: Integrated asset management
8D: Integrated health and safety
9D: Integrated lean construction
10D: Overall benefit
Ross said it is vital that the industry moves towards intelligent models that still have all the advantages of the current 3D models but incorporate information from the other dimensions.
"Without the 4D stuff or the 7D stuff or 8D stuff, there's something missing," Ross said. "Once you have an intelligent model, you get a lot more out of it."
He said the level 2+ approach is opening the door to the use of parametric models, whereby projects can be tweaked and repeated as required.
"Next time we get a project that's similar, we want to be able to say, 'Take that one, stretch that a bit, make that a bit bigger, put a bit more flow rate into it, change one of those dimensions a little bit', so we end up with different types of the same thing," he said. "When projects start to come to us now, we can start to say: 'It's like that one. Pick these things off the shelf, put them in a trolley and push them out the door.'
"That's what we want to do as a business – be more efficient on offsite build and also project management."
Nmcn is also making use of Hololens mixed reality technology, which enables the user to view projected holograms.
"Normally with BIM, you're looking at a 3D model over a CAD guy's shoulder, but that isn't very good," Ross said. "This allows you to see how you can interact with the model, sitting inside it, walking around and looking at things. It's a hologram to put your hand inside, and you can pick a pipe and see the flow rate or any other information from the 1D to 10D. It's getting people more engaged in the massive database of information."
The 2019 Wastewater Conference took place in Birmingham on 29 January and was sponsored by Greenbank, Grundfos and nmcn