Be creative in engaging customers, urges Gosden
Speakers at the Wastewater 2018 conference emphasised the need to be creative in engaging customers if the water industry is to keep pace with the modern world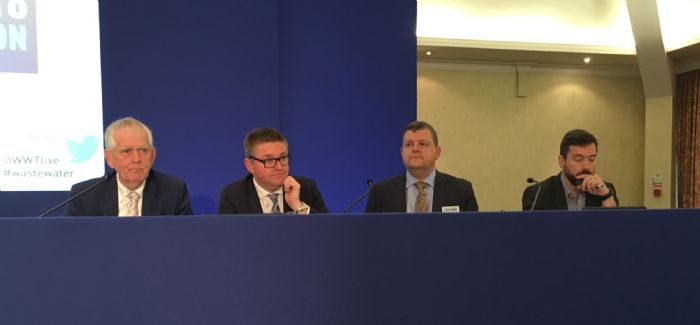 (l-r) Future Water Association Operations Director Martyn Hopkinson, Ofwat's David Black, Welsh Water's Steve Wilson and Thames Water's Lawrence Gosden
Speaker quotes
"When you get it wrong, the world of media, and particularly social media, can be extraordinarily painful ... [But] we have never had such a great opportunity to use all of the new ways of communicating with customers to get our message across – not to be on the receiving end but to be on the front foot."
Lawrence Gosden
Managing Director - Wholesale Wastewater
Thames Water
"The customer of the 21st century expects the same quality of service for everything they pay for, and this will include the utility providers. The changes we've seen in recent years are likely to gather pace in the years ahead."
David Black
Senior Director, Water 2020
Ofwat
"It's so important that we earn the trust of customers because when you start to engage and ask them these difficult questions, they've got to believe that you've got their interests at heart."
Steve Wilson
Managing Director of Wastewater Services
Welsh Water
"The power of EnTrade is asking farmers to make a choice ... We are not encouraging a race to the bottom in farming practices. What we are doing is asking farmers to take into account the different measures and different things that could have an effect on their activity and choose the best combination for them."
Laura Mann
Head of Strategy Development
Wessex Water
Water companies will have to take another "huge leap" forward to keep pace with the tech-savvy and highly demanding new generation of customers, Lawrence Gosden, Thames Water's Managing Director for Wholesale Wastewater, told the WWT Wastewater 2018 conference in Birmingham.
Numerous speakers at the event stressed that the importance of customer service and innovation – two of Ofwat's key priorities for PR19 – will demand that companies get ahead of the curve in a fast-changing world.
"The last decade has seen an extraordinary leap in our industry's engagement with customers," Gosden said. "Understanding what they really want and how they want their water company to provide them service has been central to this. We will see another huge leap in the levels of customer engagement in all water companies' plans."
While Gosden was keen to stress the importance of local community engagement, a video he screened – showing children making demands including smart, tailored content, augmented reality, and creative interaction – made clear the challenge for an industry that has not traditionally been at the vanguard of new media.
"I don't know whether that's terrifying or brilliant but it's real," Gosden said of the video. "It's real and it's here. Those guys are not the customers of the future – they're our customers now. This is the level of customer expectation, and the way we are going to have to engage with them in new and creative ways is going to transform our industry again and again and again."
He added: "Our challenge is getting in front of them and giving them what they want before they want it."
He said Thames Water had learned important messages from media coverage in recent years, referencing pollution incidents in 2013 and 2014 that cost them a record fine of £20.3M, and the Whitechapel fatberg, which made headlines when it resulted in months of clearance work late last year.
"In 2013 we got it really, really badly wrong," he said. "When you get it wrong, the world of media, and particularly social media, can be extraordinarily painful. The interesting thing for me though was the horrific headlines for the pollutions were about 150 million Twitter imprints worldwide, but the story about the monster Whitechapel fatberg, which everybody seems to have heard about, was up to 550 million Twitter imprints.
"We have never had such a great opportunity to use all of the new ways of communicating with customers to get our message across – not to be on the receiving end but to be on the front foot."
In the presentation, he discussed the company's increasing moves towards renewable energy and said that was a prime example of the kind of "fantastic story" that needs to be told.
He explained: "If I meet somebody new and tell them I work in the water industry and wastewater, they say, 'That's great' – and then they quickly get onto something else. What I tend to say these days when asked what I do is 'I make renewable energy' and people say: 'Oh, that's fantastic. How do you do that?' I say, 'Well, we make it out of wastewater that you flush down the toilet', and people say: 'Oh, that's incredible... why don't you tell your customers?' We've got big stories to get out there."
Steve Wilson, Managing Director of Wastewater Services at Welsh Water, also talked at length on his company's efforts to engage customers, including employing a "vlogger" and building a Welsh-English bilingual chatbot.
The not-for-profit company has held consultation periods with users over how best to spend its profits from the last two years, going out to meet customers at summer events and festivals, town hall meetings and roadshows as well as having an online focus group and a big internet campaign.
Wilson talked of the need to avoid longwinded industry terminology in an age of tweets and snappy soundbites. "If you can get five or six minutes of their attention, suddenly interest levels are up," he said.
Welsh Water has received tens of thousands of responses for its various consultations over the last couple of years and Wilson said the answers to questions on profit investment had been revealing: while reduction in bills was expected to be a priority, it turned out to be one of the lowest areas, while there was a lot of support for social tariffs.
He also said that – after engaging customers – it is key to show them that their views are taken on board.
"Expectations are changing," he said. "They really want to see that transparency about what we do – 'Where's the money being spent and why?' To get their support requires a high level of trust. It's so important that we earn the trust of customers because when you start to engage and ask them these difficult questions, they've got to believe that you've got their interests at heart."
Also at the conference, Northumbrian Water's Sustainable Sewerage Manager, Steena Nasapen-Watson, used the "Bill" meme in her presentation as she discussed the company's need to tell customers about its successful projects, while Northern Ireland Water's Gavin McCready's discussion of fats, oils and grease (FOG) emphasised a need to use as many means as possible – not least social media – to educate both business and domestic customers.
The speakers made clear that with customer communication only growing in importance, companies cannot afford to get left behind.
As David Black, Senior Director of Water 2020 for Ofwat, told attendees: "Technology and changing customer expectations are transforming industries all around us, from entertainment to transport."
He cited the gig economy and Netflix of examples of the changing world and said: "Each of these innovations has transformed customer experience, not to mention customer expectations. The customer of the 21st century expects the same quality of service for everything they pay for, and this will include the utility providers.
"The changes we've seen in recent years are likely to gather pace in the years ahead."
The WWT Wastewater 2018 conference was held on January 30th in Birmingham and sponsored by BASF, RPS and EnertecGreen.