Balfour's footbridge over the River Croal
As part of the Network Construction Alliance with United Utilities (UU), Balfour Beatty has replaced a footbridge with a difference in the North-west. Wilson's Bridge not only carries two designated public footpaths across the River Croal at Farnworth, near Bolton, but also a major 600mm sewer pipe, which transfers flow from the Farnsworth catchment area to a wastewater treatment works at Bolton.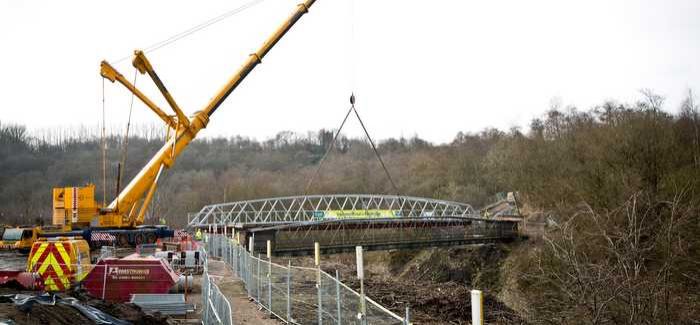 The footbridge hosts a 600mm sewer pipe
The bridge has been closed since 2008 and its supporting abutments had since slipped, potentially making it unsafe for use and posing a significant risk of pollution to the River Croal from the sewer pipe.
After years of extensive planning between UU, Bolton Council and the Canal and Rivers Trust, Balfour Beatty engineers last week used a 500t crane to undertake the painstaking installation of a brand new 35-tonne, 48m pre-fabricated footbridge to replace the old crossing. The new bridge sits on odex piled foundations, making it much more stable in the long-term than the current stone abutments of the old bridge.
The project has faced significant planning challenges to get to this point. The East embankment of the bridge is located within a Site of Special Scientific Interest (SSSI) and on contaminated wasteland. Access to site was via a single un-adopted ancient highway which crosses and runs close to both live and disused canals, protected botanical species and sites of archaeological interest.
The project has seen a number of parts of the Balfour Beatty Group come together to install the new bridge, including programme planning and design from Balfour Beatty – Gas & Water; civil engineering construction works from Balfour Beatty Regional Civil Engineering; and structural bridge design, geotechnical and environmental advice provided by Parsons Brinkerhoff, the Group's professional services business.
John Browne, design manager at Balfour Beatty – Gas & Water, said: "It's been a huge job just getting to the stage where we could bring the new bridge in. We've worked closely with landowners, local residents as well as other specialist agencies to ensure the ecology, environment and history of the area was protected, and we'll now be working to put the area back to how we found it."
"It was extremely satisfying to see the bridge slot into its new home – I'm sure there were one or two fluttering hearts as it was being lowered, but thankfully the lift went off without a hitch."
Gary Marsh, UU programme delivery manager, commented: "This has been a real exercise in planning and teamwork and all along we've been conscious of how patient local people have been while we got it right. It was quite a milestone to see the new bridge in position and it won't be long now until both the bridge and the sewer beneath it are serving the community."