Balfour Beatty picked as civils contractor for Thames flood risk project
International infrastructure group Balfour Beatty is the civils contractor for an integrated team that will deliver the ten-year Thames Estuary Asset Management Programme (TEAMP) for CH2M Hill. The deal is worth up to £250M to Balfour.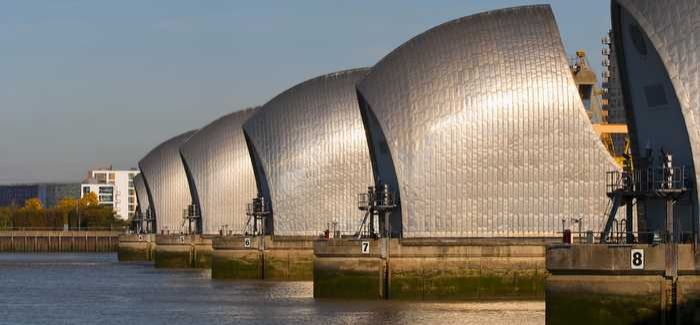 The programme includes constructing tidal walls and refurbishing active assets
The TEAMP, which is being carried out on behalf of the Environment Agency (EA), is the largest single flood risk asset management programme ever awarded in the UK. It is designed to manage and deliver capital investment works to the Thames tidal flood defences along the 170km length of the Thames Estuary, protecting 1.25 million people from flooding risk across Kent, Essex and London and £200bn-worth of property, UK government assets, major infrastructure and businesses. 
The programme will involve creating tidal walls and embankments, refurbishing works of active assets, (including major flood barriers), new assets such as pumping stations, capital renewals and replacements. Packages of major or complex maintenance works will include repairing fixed flood defence walls or subsidence of earth embankments.
CH2M Hill leads the programme supported by delivery partner Balfour Beatty and several other specialist suppliers.
Leo Quinn, Balfour Beatty's group chief executive, said: "We look forward to being part of an integrated team that will deliver this vital programme along the Thames Estuary. Balfour Beatty is bringing significant expertise in flood defence to protect one of the world's greatest cities from the sea. And, with our partners we will offer long-term, skilled, opportunities to the next generation of civil engineers."
Individual projects are expected to be awarded from the third quarter of this year with each expected to be worth up to £10M.