August finish for DVW's Llwyn Onn WTW rebuild
Dee Valley Water (DVW) said the rebuild of its Llwyn Onn Water Treatment Works is fast approaching completion.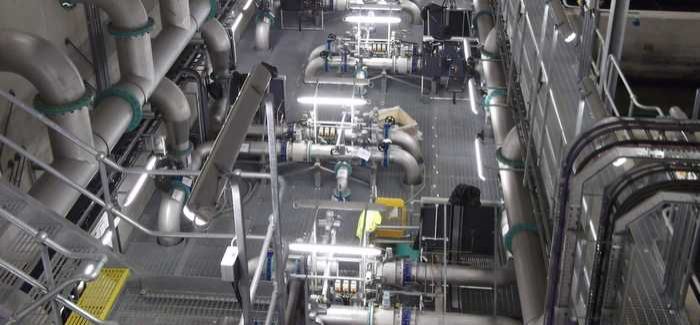 An additional treatment process has been included for manganese removal
It will replace the existing works, which was originally constructed during World War II to supply water to a munitions factory on the Wrexham Industrial Estate. In the intervening years it has been expanded and modified to provide potable water to Wrexham and the surrounding area.
The new works will ensure that DVW can continue providing a reliable supply of high quality drinking water to its customers well into the future. It will be capable of producing 47,000m3 of potable water per day and includes an additional treatment process for manganese removal which the old works does not have. Manganese is a natural mineral that occurs in surface water in DVW's region.
If not fully removed by the treatment process, it can settle out in the water pipe network. If these deposits are then stirred up due to sudden changes in flows, customers can experience discoloured water at their taps which, whilst not harmful to health, can be unsightly.
The rebuild project was awarded to Black & Veatch, and the supply chain has been sourced primarily from the north Wales area.
The civil construction was undertaken by Mulcair, from Caernarfon; the electrical and control works have been completed by Lloyd Morris Electrical based in Wrexham; and the mechanical works by JB Fabrication located on the Wrexham Industrial Estate.
DVW said Black & Veatch and its sub-contractors "have completed the work to the highest quality standards", and the design includes for back-up systems in case of equipment failure to prevent loss of water to supply. 
With the final commissioning and testing stage currently ongoing, DVW expects to have the new works in service early in August 2013.