Asset optimisation key to fighting future challenges - UKWIR's Kaye
The water sector should shift focus away from capex spending and fully concentrate on optimising its existing assets, UKWIR chief executive Steve Kaye told Utility Week Live.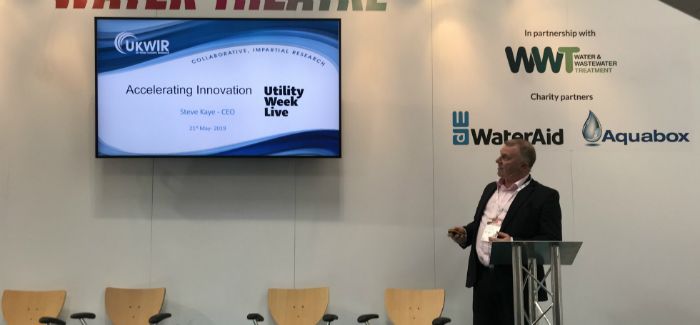 Kaye was speaking as part of the Water Company of the Future session at the event in Birmingham today (21 May), which is part of Utility Week's new campaign to explore how utilities may need to adapt to cope with the many difficulties they face.  
He said challenges such as climate change and population growth should be seen as an opportunity to improve. 
"We've got an opportunity to mitigate climate change and our effect on the environment, an opportunity to use water in a better way, an opportunity to change ageing assets into ageless assets, and an opportunity to change the culture so that we are more accepting of innovation," Kaye told delegates. 
"Ofwat are taking a positive position in my eyes at the moment in terms of encouraging innovation." 
He said it will be important for the industry to abandon its reliance on building its way out of trouble, suggesting the existing asset base may be able to contend with the growing pressures if it is managed more intelligently. 
"The way the industry has been regulated and funded has to me been very capex-biased," he said. "Whenever we've had a problem, like population growth or a change in standards at a treatment works, we've built new assets. 
"The opportunity we've got is: How do we make better use of our existing assets?"
Emphasising the tight opex budgets that companies contend with, he said there needs to be a shift towards making better use of sensors and data to analyse asset condition and carry out proactive maintenance. 
"My gut feel is that we probably have enough assets to last maybe 10 years without building anything new," he said. 
"The financial mechanism that supports the water industry has got to allow that to happen. To do that, we might end up spending a lot more opex. It might be on sensors. It might be on data management. It might be on more people with different skills.
"You've got to be very open-minded about how we look at building new assets and how we optimise and maintain the existing assets, and that's a real opportunity for innovation." 
Kieran Brocklebank, head of innovation at United Utilities, agreed that asset optimisation is a vital factor going forward and cited examples of how the company has started to utilise technology to detect problems before they happen and intervene as part of a wider 'systems thinking' approach. 
"Every water company has millions and millions of assets," he said. "Steve's probably right. Can we use them better? Can we design, buy and store them better and run them better than ever?"  
United Utilities, which last year became the first water company in the UK to introduce large-scale artificial intelligence into its operational systems, was moved to improve its processes after a sinkhole in Liverpool caused significant issues in 2017. 
"There was a huge collapse and we had to close that part of a very busy road," he said. "We had to close that down for six weeks to diagnose the problem, make the repair and make it safe. That cost us a lot of money and downtime for customers, and we were in customers' faces causing them a problem. 
"We asked ourselves whether we could have done that any differently. We didn't mean whether we could react more quickly and cheaply. What we meant was whether we could have avoided it altogether.  
"What we found was the technology existed already and we had access to lots of information. A satellite analysis of the ground condition around that hole showed the movement in the soil. We could have spotted that with an artificial intelligence system that would have seen the deviation and alerted us.
"That was one that got away, but it showed us there is a business case for the systems thinking approach." 
He said the company had subsequently established an in-house team to look at data analytics.
"We realised we had loads of sensor readings, but it was very tricky to find any insights," he said. "We did some research in this space and developed an in-house model that can do what I mentioned – trying to find the normal signature of the network and spotting deviations as they occur. It's a really powerful model and it allows us to do things faster and in a preventative fashion." 
United Utilities is already enjoying success with the analytical technology and sees it as an important part of the systems thinking approach, which it aims to develop significantly over the coming AMP periods. 
"There's loads and loads of ideas out there – you just need to adopt them faster," Brocklebank said. "Our way of adopting them faster is by putting the systems in to deliver on all these things."