Asset management recognition for Scottish Water
Scottish Water's approach to asset management has been recognised by a new international standard - it has achieved ISO 55001. Along with Babcock, Scottish Water has been independently assessed by business standards company BSI for the new international standard.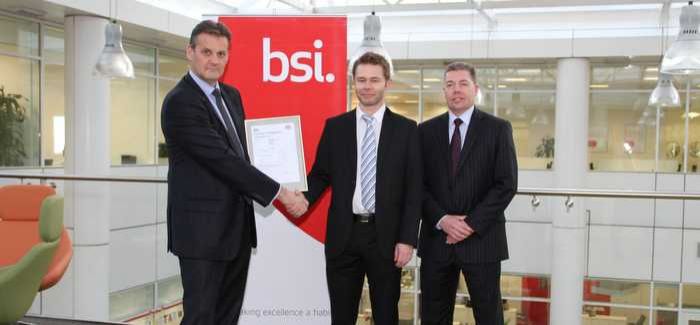 Mark Basham, EMEA managing director for BSI; Colin Duguid, deputy quality manager at Scottish Water; Robert Doughty, asset management systems manager at Scottish Water
ISO 55001 recognises Scottish Water's ability to achieve business objectives through efficient management of assets, such as water treatment works, by focusing on getting maximum value for customers from an asset at the lowest possible cost. It said achieving the standard demonstrates its commitment to making further infrastructure improvements while keeping customer bills low.
Maureen Sumner Smith, UK managing director at BSI, said: "We are pleased that Babcock and Scottish Water are the first customers to achieve certification to the new international standard for asset management, ISO 55001.
"It demonstrates the hard work and dedication that has gone into building a well-structured and robust approach to managing their assets. This is testament to their commitment to best practice and continual improvement and will, in turn, provide reassurance and confidence to new and existing customers."
Colin Duguid, deputy quality manager at Scottish Water, said: "ISO 55001 enables us to demonstrate to customers and regulators that we've achieved a high degree of professionalism in the use of our assets across Scotland to produce clean drinking water and remove waste water safely and efficiently."
The standard is based on the popular PAS 55 Asset Management specifications sponsored by the Institute of Asset Management, and relates to a management system for physical and other organisational assets, enables organisations to achieve their wider business objectives through the effective and efficient management of their assets.
It helps develop an asset management strategy that focuses on getting the maximum use and return from an asset while potentially lowering the overall cost of ownership or management.