Ardee sewerage scheme gets underway in Louth
Irish Water and Louth County Council have turned the sod to mark the start of the Ardee Sewerage Scheme, a €7.5 million (£6.7M) scheme to increase the capacity of the existing Wastewater Treatment Plant in Ardee.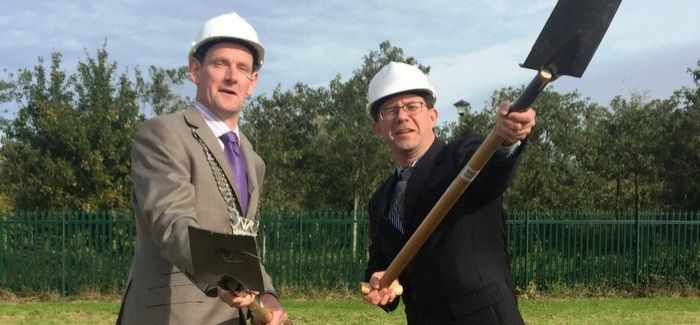 Colm Markey (Louth County Council) and Paul Fallon (Irish Water) at the sod turning
The works will assist economic development by allowing for the ongoing business and housing expansion in the town and surrounding areas.
The sod was officially turned by Cathaoirleach of Louth County Council, Colm Markey along with Paul Fallon, Wastewater Infrastructure Programme Manager at Irish Water.
The existing wastewater treatment plant is currently at maximum capacity and the work, once completed, will ensure the Ardee plant meets Environmental Protection Agency discharge requirements. The works will take approximately 18 months to complete.
Other benefits of the project will include increased environmental protection as a result of increased control and reduction in the frequency and volume of untreated flows from the wastewater network into local watercourses and significant improvements in the quality of effluent discharged into the River Dee.
The scope of the works includes a range of upgrades to the existing Wastewater Treatment Plant including an increase in capacity and improvements in wastewater treatment processes, in addition to a programme of sewer rehabilitation in the town.
Speaking at the event Cathaoirleach of Louth County Council, Cllr. Colm Markey, said: "This is a significant infrastructure project for County Louth which will address deficiencies with wastewater treatment in Ardee and the surrounding area. This investment will sustain and enhance the environment by improving water quality in the River Dee while at the same time facilitating future growth and economic development by providing increased capacity at the treatment plant."
Paul Fallon, Wastewater Infrastructure Programme Manager, added: "For too long there has been serious underinvestment in wastewater services in Ireland. We have inadequate treatment processes and in too many cases untreated wastewater being discharged directly into our rivers and seas. Irish Water is delighted to be in a position to start the upgrade works on the Ardee Sewerage Scheme and the associated benefits the works will bring to the town once completed. Irish Water and our partners Louth County Council will work hard to keep any disruption to residents, businesses and visitors to a minimum while this vital work is taking place."
The works will be completed by a joint venture between Wills Bros Ltd. And EPS working on behalf of Irish Water and overseen by WSP Ireland and RPS.