Aqualogic to distribute Trimble Unity smart water platform
UK-based water specialist Aqualogic has become the distributor for the Trimble Unity smart water software platform for water companies in the UK.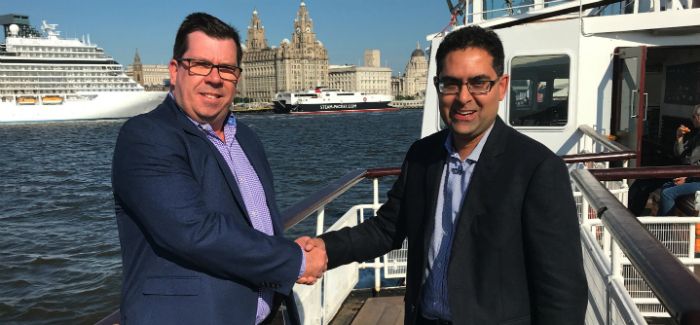 Aqualogic MD Ben Rice and Trimble sales director Saad Latif shake hands on the mutual company agreement
Trimble Unity is a cloud-based, GIS-centric Software-as-a-Service (SaaS) solution that offers a suite of applications and tools for the water, wastewater, stormwater and environmental water industry.
The solution, which is already being successfully employed by the water industry in the United States as well as by one water company in the UK, supports companies to implement smart technology to save costs, reduce water loss and enhance the performance of their assets – all of which lead to improved regulatory compliance and customer service.
Trimble Unity provides situational awareness of water and wastewater utility asset performance, offering a single view of remote monitoring data, performance measurement reports, GIS, operational data, asset conditions and events.
Customers can leverage Trimble Unity's configurable web and mobile work management, analysis and data collection workflows for responding to alarms or events, assessing the condition of the utility network assets and collecting authoritative asset data in the field.
Trimble Unity allows customers to integrate the solution with their existing back office customer service and asset management systems and provides a single GIS-centric field solution across an entire workforce.
Aqualogic managing director Ben Rice said: "Collaborating with Trimble builds on the work we have been doing across the UK water industry innovating with disruptive leak detection technology.
"The Trimble Unity platform will allow water companies to view and manage current and new assets in the field, all in one place using one platform – UK water companies see this as an ideal solution to significantly improve field operations."
Saad Latif, Trimble Water's regional business manager, added: "Aqualogic is a specialist in water management and field services as well as acoustic leak detection.
"Working with Aqualogic is an ideal choice for their expertise and contacts across the industry to launch the Trimble Unity platform in the UK."
For more information on Trimble, see our Innovation Zone special on improving network operation.