Aquabox responds to Cyclone Amphan
UK charity Aquabox has managed a rapid response to the Amphan storm in the Bay of Bengal, despite the charity having been shut down since the start of the Covid-19 pandemic.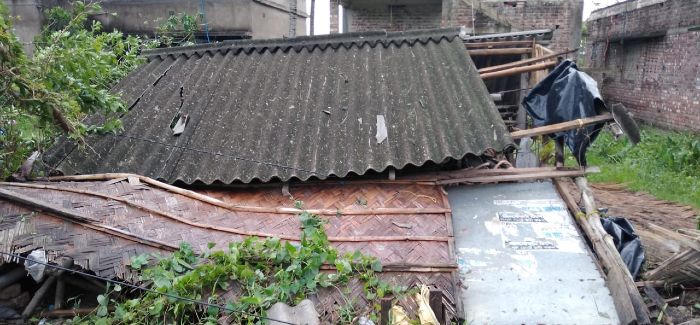 From Saturday 16 May to Thursday 21 May, Amphan – officially graded as a 'super cyclonic storm' – ripped into the coastal areas on the Bay of Bengal. It was the worst cyclone for the past 20 years, with sustained wind speeds of 150 mph and a peak of 160 mph, and it has resulted in massive damage.
Government sources in the area report that millions of acres of crops have been destroyed due to saltwater flooding, and that more than 200,000 farmers have lost their livelihoods, homes, and belongings. In total, millions of people's lives have been devastated. On top of that, Covid-19 is already in the area, and although relief camps have been set up, social distancing is impossible.
The death toll from Amphan is low, but with severely limited access to safe water for drinking, personal hygiene and preparing food, it is likely that many more will suffer and possibly die.
Aquabox has shipped two substantial aid packages to Kolkata for local distribution in the cyclone area. The first shipment, by air, left the Aquabox depot in Wirksworth, Derbyshire on 3 June and included 10 community water filters and 60 family filters. At a conservative estimate, these 70 filters will provide clean water for around 4,500 people.
The second shipment, by sea, left the depot on 9 June, and included 250 Aquabox Gold boxes, each containing a wide range of shelter building materials, food preparation items and hygiene products as well as a family water filter. This second shipment provides access to safe drinking water for a further 1,500 people.
Freight costs have risen sharply because of the Covid-19 crisis and, in total, these two shipments have cost Aquabox £42,000. That has made a significant dent in the charity's reserves, at the start of the hurricane season – experience has shown that there will almost certainly be more demand for Aquabox's water filters and humanitarian aid boxes before long.
Readers can help to fund Aquabox's vital work by donating at www.aquabox.org. Every penny received goes towards manufacturing filters and stocking aid boxes – and every penny counts.