Anglian Water to launch 'Operation Blue Crab'
Anglian Water is to paint blue crabs on Hunstanton and Wells' kerbs and drain covers to raise public awareness of the problems associated with improper disposal of waste substances.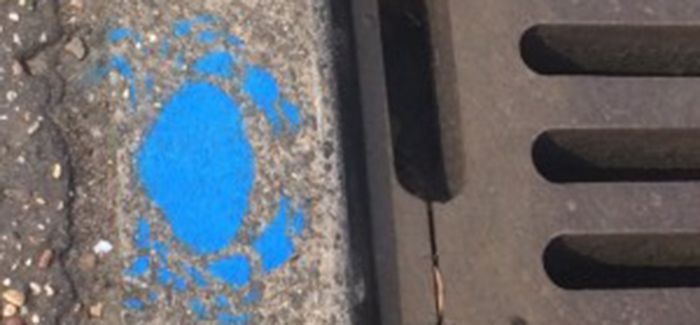 Surface water or rain drains are designed to take excess rain water away from roads and pavements and put it directly out to sea, but any waste substances wrongly put down them could pollute beaches.
Adam Worley, Anglian Water's coastal catchment manager, said: "Sadly there have been some worrying examples where chemical toilets and food waste has been wrongly emptied into our surface water drains in Norfolk.
"For example, last summer we saw wastewater from food establishments being emptied into the drains along Hunstanton promenade.
"This may have been an innocent mistake, as many people think the drains go to the sewer, which is why we're running this campaign. We want to raise awareness amongst residents, businesses and holiday makers to help everyone become a little bit more knowledgeable and vigilant. If they do, they'll be helping to protect their much-loved coastline.
"By painting something striking near the rain drains, the crabs act as a visual reminder to people, companies and contractors that these drains are connected directly to the sea and meant for rainwater only. We hope it will prevent any further issues in the future."
Anglian Water's coastal protection team work all year round to pinpoint pollution to prevent potential impacts on the region's beaches and bathing waters.
The company's Beachcare initiative, run in conjunction with Keep Britain Tidy, is another example of its commitment to fighting pollution, by supporting volunteers to keep the region's beaches litter-free.
Worley added: "What goes down these drains today could end up on the beach or in the sea the very next day, and that's why this message is so important for our coastal areas.
"By raising awareness of the problems caused by disposing waste down surface water drains, we can help protect our stunning seaside by getting people to do their bit for the coastal environment.
"We'd also like to thank the local District and County Councils for supporting us with this campaign. As a popular tourist destination, and vital for the local economy, it's really important to ensure the region's beaches and bathing waters are kept in tip top shape."
Anglian Water has invested more than £300 million in bathing waters over the past two decades and the region is now home to a number of Britain's best bathing waters, with 16 Blue Flag-awarded beaches in 2018.
'Operation Blue Crab' follows a similar scheme in Kent, where the Environment Agency, Thanet District Council and Southern Water painted yellow fish on and around the covers of road drains to highlight issues with pouring fat, oils or other waste down yard drains or road gullies.