Anglian Water team claim back Drilling and Tapping trophy
The Institute of Water's National Drilling and Tapping competition took place in Birmingham at Utility Week Live on the 21st and 22nd May and proved again to be an exciting two days, drawing in a lively crowd, fantastic support and a lot of noise.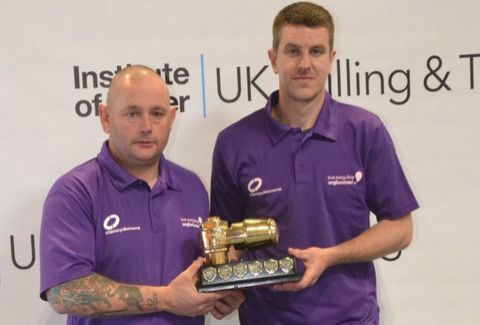 The winning team of Jason Barratt and Lee Maddock
The Talis Men's competition saw a close battle between underdogs Clancy Docwra, who have never previously made it to a Drilling and Tapping final, and past champions Anglian Water who were both looking to take the trophy from last year's winners Northumbrian Water.
The competition came down to the last run as both teams successfully secured a 'quality tap', but it was Anglian Water who stormed to victory and claimed the title with a run of 2 minutes 13 seconds. Jason Barratt (Solutions Delivery Engineer) and Lee Maddock (Clancy Docwra operative) from the Anglian Water team will now go on to represent the UK once again in next year's 2020 World Water Cup competition in Orlando, Florida.
Jason Barratt was delighted with their final run and said: "We had to stay cool under pressure and bring it home safely, sometimes that can be the difference between a win and a loss. We're thrilled to have the Talis title once again and look forward to representing the UK in 2020!"
There was no women's competition this year, however, Northumbrian Water Ladies team were recognised for their participation in the UK competition and awarded by sponsor Mueller.
Drilling and Tapping Competition 2019 Results
1st Place and winner of the Talis Men's Trophy: Anglian Water, 2mins 13secs
2nd Place: Clancy Docwra, 2mins 36secs
3rd Place: Waternet, 2mins 47secs
The Institute of Water would like to thank all the teams, sponsors and judges involved in this year's UK Drilling and Tapping competition. The next competition takes place at Utility Week Live in Birmingham's NEC 2020. Entries and enquiries to Megan Williams (Institute of Water) at megan@instituteofwater.org.uk. Web: www.drillingandtapping.co.uk