Anglian Water and Norfolk council promote FOG recycling
Anglian Water and South Norfolk Council (SNC) are working together to promote a new scheme that is designed to help make it easier for residents to recycle used cooking fats, oils and grease.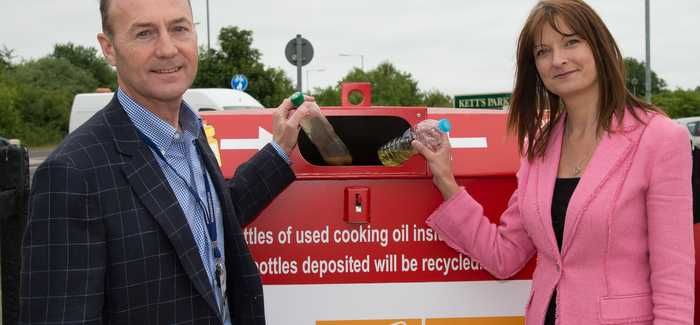 South Norfolk district councillor Lee Hornby and Anglian's Rachel Dyson with one of the new collection banks
The council is one of the first in the country to install convenient used cooking oil collection banks at unmanned sites across the district. In the first six months, nearly 2,000l of used cooking oil has been collected in the banks at five sites across south Norfolk.
Anglian Water and SNC said the scheme has been such a success that another three banks have just been installed.  
The banks, which collect vegetable and cooking oil, lard, roasting fats, BBQ fats, grill fats, margarine and butter, are easy to use. Residents are advised to wait until used cooking oil and other fats have cooled then place in a sealed glass or plastic bottle. The entire bottle is then placed into the recycling banks.  
Both the oil and the bottle are recycled.  
The used cooking oil banks are provided by Bensons Products, which takes the oil and recycles it into biodiesel.
Anglian Water deals with 35,000 blockages a year with more than half caused by items like used fats, oils and grease.  
Rachel Dyson, Anglian Water's programme manager for fats, oils, grease and unflushables, said: "Anglian Water welcomes this initiative by Bensons and South Norfolk Council. It makes it easier for householders to recycle used cooking oil with the banks installed at convenient local sites.  
The used cooking oil banks are located in Diss, Harleston, Long Stratton, Poringland, Wymondham, Ditchingham and Cringleford / Norwich.