Anglian to use AI-powered energy storage infrastructure
Anglian Water has purchased a 60kW/300kWh redT energy storage machine to install alongside a 450kWp solar PV system at one of its water treatment works.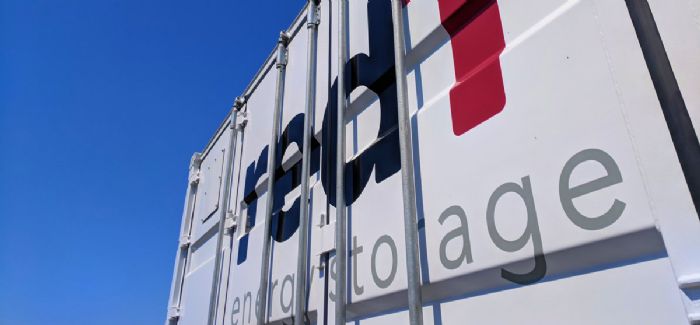 This will enable the company to store excess solar generated during the day and use it at other times to reduce the site's reliance on the grid.
As the largest power consumer in the East of England, reducing reliance on volatile grid electricity will enable optimisation of a £77 million energy bill, which is one of the company's most significant operational costs.
Maximisation of renewables generation and consumption is part of Anglian Water's strategy for delivering carbon neutrality by 2050. Over the next 18 months, the company will be building over 30MWp of solar under a 25-year PPA contract with HBS New Energies & Macquarie Principal Finance.
This programme of work will reduce carbon emissions by 15,000 tonnes of CO2e and increase the company's renewables generation by approximately 25 per cent, delivering annual savings in excess of £1 million.
This is being followed by a second significant solar programme that will shortly be out for tender. This additional generation for solar will supplement the increasing amount of renewable power that Anglian Water is generating from its wind turbines and its fleet of Combined Heat and Power engines powered by biogas.
Investing in energy storage infrastructure will enable Anglian to increase onsite solar generation by 80 per cent at the 'pathfinder' site in Norfolk from 248kWp to 450 kWp. In parallel, redT's energy storage machine will create additional value for Anglian Water by providing real-time balancing services to take advantage of wholesale energy price arbitrage. In total, the project is expected to reduce site electricity costs by 50 per cent per annum by 2040.
The redT machine is sustainable and non-degrading and can provide at least five hours of energy storage, which makes it ideal for use alongside on-site generation, such as solar PV. It is also fast responding and flexible enough to react to real-time energy trading opportunities.
These machines have a lifespan of 25 years and do not degrade like conventional lithium or lead-acid batteries, so there is no marginal performance cost to stacking multiple value streams or changing activities over the life of the project, delivering the greatest end-user benefit.
Anglian Water and redT are partnering with leading energy tech company, Open Energi, to ensure maximum benefits are derived from the pathfinder. The flow machine will be fitted with Open Energi's innovative Dynamic Demand 2.0 software, which harnesses artificial intelligence to optimise energy consumption and stack multiple demand-side value streams.
redT CEO Scott McGregor said: "Our machines work alongside on-site generation to give businesses their own local energy infrastructure and create the environment for 'baseload' renewables; this system will allow Anglian to harness more cheap solar on site and increase generation from 248kWp to 450kWp.
"Open Energi's intelligent software means these assets can be flexibly managed to deliver the best possible outcome for businesses, cutting costs, creating revenue and making the most of renewable power generated on-site."
David Hill, commercial director at Open Energi, added: "Energy storage puts businesses in control of their energy use like never before and redT's machines offer scope for businesses to stack value streams and shift consumption off-grid for significant periods of the day. We're excited to be working with customers to deliver value and create an energy system where renewable generation is delivering power 24/7."
Jason Tucker, director of alliances and integrated supply chain at Anglian Water, said: "We are very happy to be at the forefront of our industry by taking part in this ground-breaking project. This pathfinder integrates, rather than simply co-locates, storage and solar. 
"The approach will enable us to develop future-proof solutions for managing energy more flexibly and efficiently, whilst increasing resilience. Using redT's flexible energy storage infrastructure alongside Open Energi's smart software will allow us to unlock more solar power, as well as allowing us to participate in grid services to further reduce our energy bills.
"Most importantly, this collaborative project will provide us with invaluable insight to support our future energy strategy, as one of the largest energy 'prosumers' in the East of England."