Anglian, SES and Welsh Water hold virtual hackathon
Anglian Water, SES and Welsh Water last week held the very first collaborative virtual event bringing together experience and ideas from a variety of organisations and individuals to tackle the growing issues of water usage across the country.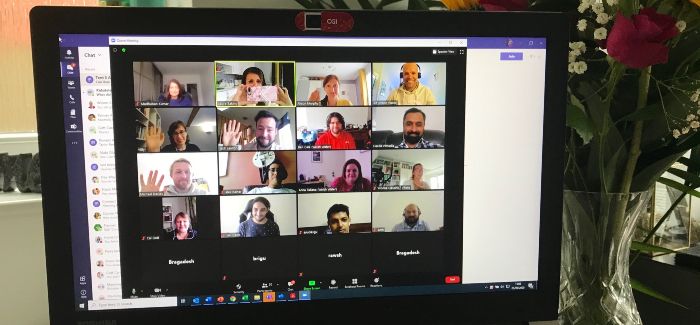 Joined by 100 virtual attendees, participants were placed in 20 groups to debate and create new and innovative ideas to help produce outputs that will help the water companies support their customers to manage their bills, while also enhancing the company's leakage strategies.
Participants attended as both individuals and groups from organisations including Atkins, Capgemini, 1Spatial, RPS and Yorkshire Water amongst others. Lightning guest speakers also joined the virtual event to provide inspiration along the way including Judith Batchelar, Director of Brand at Sainsbury's.
Across two weeks which included five 'online' days, participants were provided with 400 million lines of anonymised smart meter data which generated a variety of ideas across the groups.
Participants tackled one of four problem statements around water consumption. There was a winner from each problem statement - these four teams then went head to head to battle it out for the overall prize.  The overall winners were RPS for their idea 'Water Balance Calculation - The Future'.
Their idea was based on using the property and district metering data supplied where they looked at issue surrounding leakage. By using the data they were able to demonstrate that a property nightline calculation could be carried out for each area on a daily basis.
In addition, by using the weather data, they were able to provide a better estimate of the water use at unmeasured properties. As a result, water companies would have increased confidence that a rise in the night flow is due to a leak breaking out and therefore respond more quickly.
Mike Butlet, technical manager at RPS said of the event: "It was refreshing to be presented with innovative and extensive data sets with the challenge to re-invent traditional approaches. The freedom and collaborative spirit facilitated by the Hackathon resulted in animated debate and testing of ideas, leading to a rewarding and valuable outcome for all involved."
The other three group winners were:
Winner 2 – 1Spatial
This team's idea aimed to leverage their expertise in geospatial analysis to discover where hotspots are.
They used a mixture of supervised and unsupervised machine learning with a focus on automation to create a new data set through an insights driven data process.
They focused on bill classes in discrete areas of a specific town to determine representative patterns for properties before further analysis to define what a hotspot was. They brought in weather and temperature data to provide additional insights allowing them to fine tune this for properties. Their solution allowed the team to predict, with accuracy, where properties would see an increased demand profile. The team built the solution in a contained process which means it can be implemented easily to enhance processes and as the analysis was 'data agnostic', so the solution could be applied to other utilities such as gas or electricity.
Winner 3 – The Royal Flush
This team's idea aimed to reduce customer wastage as opposed to reducing the amount of water used by customers.
They analysed available Acorn and Smart Meter data to better understand usage, linking average usage patterns to likely activities and behaviours. This information could then be used to produce personalised tips on how to reduce wastage. Further analysis by applying machine learning would allow for analysis at an individual level for all households, which would allow for more personalised tips to reduce wastage.
Their idea was to develop a 'Pipe Dream Water App' which could be used on a smart phone or tablet; the customer can visualise their daily consumption and compare it to a target consumption. In comparable industries, providing customers with insight resulted in a 12-14% usage reduction.
Winner 4 – Yorkshire Water
The team came up with a novel dashboard "Leakage Hunter" showcasing customer-side leakage. They used Shiny, an R package that can build interactive web apps. The solution was presented geographically and flagged up properties with suspected leaks. Water utilities would be able to categorise, filter and drill down to understand the details of each suspected leak.
Their solution can be quickly implemented and if scaled up has benefits in terms of increased efficiency at finding and fixing leaks across an entire region in a targeted and logical way. Their solution also incorporated consideration of GDPR regulation and compliancy. Future development included building weather data and transient populations into the model. 
The three water companies will now take the ideas and findings from the hackathon back to their internal teams to look more closely at the detail. Should the companies decide to use any of the ideas generated they will work closely with the teams who took part.
Shaunna Berensden, Head of Innovation Engagement at Anglian Water, said, "We were delighted with the number of people who took part in the Hackathon.  The variety of ideas and creative minds all coming together virtually was fantastic and the results exceeded our expectations.
"We would like to thank everyone who took part in the two week event and also to those guest speakers who came joined to give their insight and experience on innovation and idea generation."