Anglian planning more wetlands after Ingoldisthorpe success
Anglian Water has unveiled proposals for dozens of further wetland treatment sites as part of its business plan from 2020 after the success of its work on the River Ingol in west Norfolk.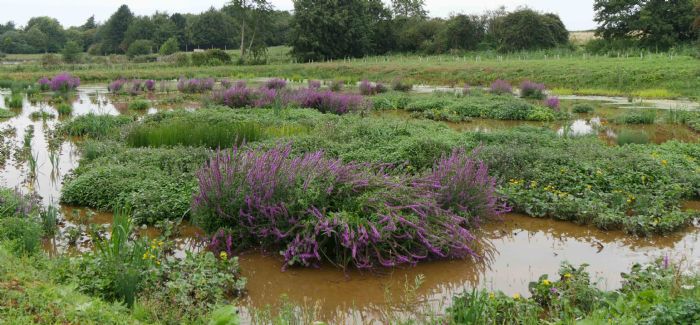 The wetlands will form part of Anglian Water's Water Industry National Environment Programme (WINEP). At nearly £800 million, the company's proposed investment in protecting and enhancing the region's environment is more than double that of the previous five years.
The proposals are currently with the industry regulator Ofwat for approval as part of Anglian Water's wider business plan totalling £6.5 billion for the whole region between 2020 and 2025. If successful, as many as 59 treatment wetlands could be built in the coming years.
The wetland treatment site at Ingoldisthorpe is the first of its kind in England and has been created in partnership with the Norfolk River's Trust.
The site works as a natural treatment plant for millions of litres of water a day. Used but treated water passes through the wetland to be further filtered and cleaned by the wetland plants before it is returned to the River Ingol.
This additional, natural filtering process further improves the quality of water being returned to the river, benefiting the whole of the river, which is a spring-fed chalk stream. Aside from having a practical purpose, the wetland is a huge biodiversity asset, attracting breeding birds, amphibians, bats, water voles to the local environment.
Chris Gerrard, natural catchment and biodiversity manager, said: "The four large interconnected ponds include typical wetland flora that is native to the UK. Naturally, these plants attract insects like bees and other pollinators, but they also attract mammals, too.
"Chemicals like phosphates and ammonia come from urbanisation, domestic products like detergents, as well as from human and animal waste.
"In the future, we need to find more natural ways to treat them rather than adding more chemicals in our treatment processes or building carbon hungry infrastructure, which is unsustainable, and would have an impact on customer bills too. So the wetland is a great solution.
"In addition to removing ammonia and phosphorus, Anglian Water will be monitoring the wetland to see if it removes nutrients such as nitrates and other substances such as metals and microplastics.
"It removes the unwanted chemicals naturally and creates a wildlife-rich environment. Ingoldisthorpe is proof that this is a great thing to do. We're confident that the wetland will work well in other areas too, which is why our business plan contains proposals for more sites like this in the future."