Anglian pioneers use of naval technology to find leaks
Anglian Water has announced that is deploying an adapted form of naval technology across its network to hunt down and fix leaks faster than ever before.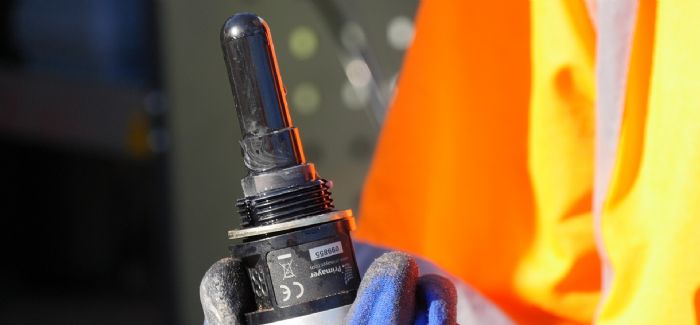 Known as advanced noise loggers, Primayer's Enigma3hyQ technology works like a hydrophone and listens for changes in sound underwater. Placed permanently within the pipe itself the loggers listen through the flow of water to find hard to pinpoint leaks.
Traditionally hydrophones are used by the navy for submarine navigation, underwater mapping and communication.
One of the biggest challenges faced across the water industry is the ability to detect leaks effectively on plastic pipes as they don't transmit noise when they leak. Critically, unlike more widely used methods, this new technology can be used on plastic pipes, which make up 60 per cent of Anglian Water's mains.
Anglian Water will be fitting thousands of these leak detectors across their network over the next 18 months in a bid to drive down their already industry-leading leakage levels by a further 22 per cent before 2025. This would make the water company a world leader in leakage, as well as retaining its leakage crown in the UK too.
In addition, Anglian will be employing an additional 200 leakage technicians over the coming months to help with this work.
The water company recently proposed a £240 million investment into tackling leakage alone as part of its recent business plan submission to its regulator Ofwat. Installation of the noise loggers will form part of that investment.
Sean McCarthy, head of leakage at Anglian Water, said: "We already have the lowest level of leakage in the water industry at half the national average. But being ahead of the curve means we're now into the realms of tracking down really hard to find leaks, long before they're visible to the naked eye, meaning our leakage targets are now really tough.
"We're looking into every avenue of engineering available to us to continually be better, and technology like this will revolutionise our ability to meet those tough targets.
"The noise logger is a permanent fixture within the water pipe, taking readings every night so any noise from leaks can be heard more clearly and analysed by our leakage team. Essentially we're listening for leaks; these are our ears in the ground.
"Ultimately, lower leakage means a better service for our customers, less chance of supply interruptions and less disruption because we can find and fix leaks while they're small and invisible."
Working with their in-house data team, Anglian Water has developed a dedicated modelling system that works out the optimum points across the water mains network to place the sensors. This precise deployment means the noise loggers can be installed much more efficiently. 
McCarthy added: "We'll be installing 3,500 noise loggers across our network between now and 2020, with a further tranche already being planned beyond that.
"Ultimately they will form a cornerstone of our leakage strategy and work alongside our other technology, like thermal imaging drones and satellite imagery to help us save millions of litres of water."
Barbara Hathaway, technical services director at Primayer, said: "The collaboration with Anglian Water on the Enigma3hyQ datalogger is a tremendous opportunity for Primayer and we look forward to supporting the roll-out across their networks. This is the world's only hydrophone sensor for leak detection and initial results show fantastic promise."
Primayer managing director Roger Ironmonger said: "Our new technology changes the dynamics and economics of leakage management enabling water supply companies to further reduce leakage and optimise supply."