Anglian fined £50k for Essex sewage spill
Anglian Water has been fined £50,000 after sewage contaminated a brook through an emergency overflow pipe killing more than 1,500 fish.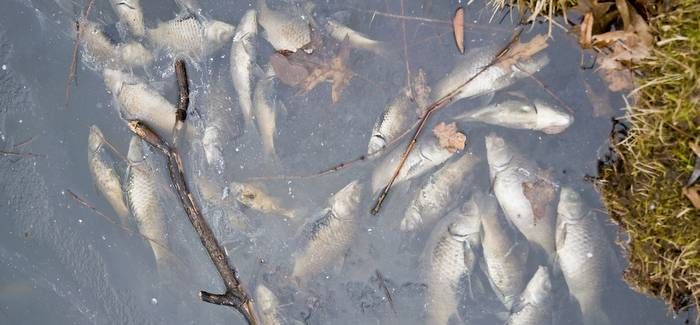 1,500 fish died in the spill, though the Environment Agency said many of the affected species were spawning at the time, 'so it is likely the incident had a significant impact on reproduction'
All 3 pumps at Ingrave Pumping Station, near Brentwood, Essex had failed in the early hours of 10 April 2011 and sewage polluted more than four kilometers of the Haverings Grove Brook.
A variety of fish species died including bullhead, stoneloach, minnow, stickleback, chub, dace and gudgeon. The Environment Agency said many of these species were spawning at the time, "so it is likely the incident had a significant impact on reproduction".
The company was also ordered to pay a contribution towards Environment Agency costs of £44,736 and a victim surcharge of £15.
Mark Watson, prosecuting for the Agency, said: "There was a pattern of failure to respond appropriately to alarms and telemetry data in the run up to 10 April 2011."
Defence counsel Sarah Le Fevre said Anglian Water deeply regretted the incident and took some comfort from the scale of the company's operation with their telemetry system representing one of the largest in Western Europe.
A spokesperson for Anglian Water told WWTOnline: "We take our responsibilities to the natural environment very seriously, and deeply regret the incident that occurred at Ingrave Pumping Station in 2011.
"We continually monitor our sites through an extensive network of sensors and alarms – one of the largest such networks in Europe. This process provides a 24/7 view of how our assets are operating and is very effective. However, it relies on the data received from each site.
"On this occasion the heavy duty pumps at the station failed. To compound these issues, we believe that part of the system of alarms at the pumping station became clogged with debris and 'rag', placed into the network by persons unknown, which prevented an alarm being triggered. Although this appears to have been caused by fly-tipping of unauthorised waste, nonetheless it led to a breach of our permit and we are very sorry for that.
"Every single day, Anglian Water spends half a million pounds to keep the network running as it should. Around £6.5 million is spent each year on preventing sewer blockages, and maintenance of our vast network. We have also begun to update and replace our current network of sensors and alarms at a cost of around £30million. We work tirelessly to protect and enhance the environment, so it is particularly distressing when incidents like this occur."