Anglian appoints HBS New Energies for solar programme
Anglian Water has appointed HBS New Energies to deliver a 30MWp solar programme across its water treatment sites, with the first site under the contract now installed.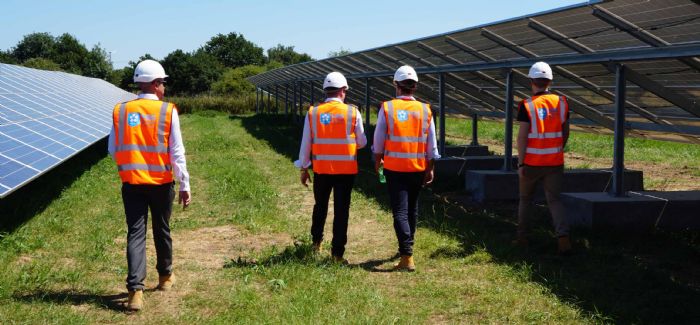 This is the second successive order awarded to HBS as part of the five-year renewable energy framework to boost on-site generation for Anglian.
Macquarie Principal Finance is funding the installation of the solar assets under a Power Purchase Agreement (PPA) and will partner with HBS, which will design, install and operate solar photovoltaic PV systems across Anglian's portfolio of operational sites, with systems ranging from 200kWp up to 15MWp.
As one of the biggest energy users in the East of England, Anglian Water requires vast amounts of power to treat, recycle and pump water to its 6.4 million customers. The solar PV roll-out will create significant electricity and carbon savings and support Anglian's commitment to operating and maintaining energy-efficient infrastructure.
Alex Riley, renewable energy specialist at Anglian Water, said: "We are delighted to be working with HBS New Energies to develop and deliver a portfolio of solar photovoltaic arrays that will generate in excess of 30GWh of renewable energy for our operational sites. Once constructed, the arrays will create significant carbon savings, and help us on our path to becoming carbon neutral by 2050."
This is the second phase of Anglian Water's push towards greater on-site solar renewable energy generation. It follows the success of arrays installed by HBS in 2016 at the Hall Water Treatment Works in Lincolnshire and Water Recycling Centres in Witham and Rayleigh.
These installations were the beginning of Anglian Water's drive to reduce carbon emissions through the use of solar PV across their sites.
John Toms, commercial development manager at HBS New Energies, said: "We at HBS are delighted to continue our successful partnership with Anglian Water on this next phase of renewable energy development. The solar programme is driven by our mutual belief in innovation and collaboration. We are collectively working towards a more sustainable, carbon neutral future."
HBS New Energies is working closely with Anglian Water on all aspects of the solar programme, from legal collaboration, planning, DNO and site surveying through to electrical design, project development, construction and O&M.
The Power Purchase Agreement (PPA) created with Macquarie offers Anglian Water low cost, carbon neutral electricity that will help its operations become more energy efficient and sustainable for the next 25 years.
James Bull, HBS New Energies' managing director, said: "We're extremely proud to be appointed by Anglian Water, one of the world's leading utilities, as their strategic partner on this solar PV programme. Increasing the development of solar assets under a PPA will boost on-site generation, providing a long-term strategy that will help them take direct action against today's volatile energy market.
"As one of the largest solar PPA deals in the UK, this project highlights our continued growth as a major solar developer. By capitalising on our PV expertise, we plan to forge long term partnerships with the UK's highest energy users and help them reduce energy costs and cut carbon."