Amey wins £225M UU deal
Amey's Network Maintenance Alliance contract with United Utilities (UU) has been extended until 2020. The £225M deal will see Amey help to maintain more than 76,000km of sewer pipe, 42,000km of clean water infrastructure, private sewers, manage water diversions and carry out network enhancements for a further five years for UU.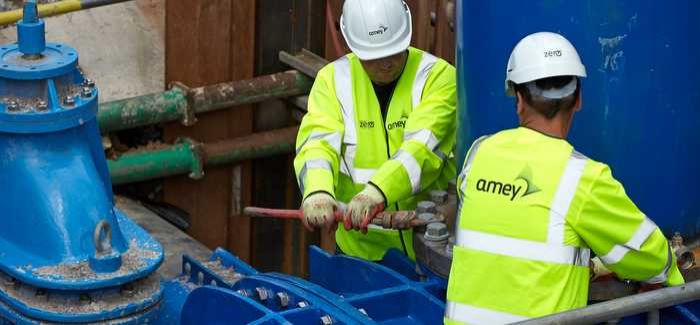 Amey will maintain pipes as well as carry out network enhancements
The contract extension comes just days after Severn Trent Water announced that Amey is one of the seven existing design and build contractors that will deliver essential investment in the region's clean and wastewater network. Amey's five-year deal with Severn Trent is worth £190M.
As part of the UU deal, the services provided are critical for maintaining the clean and wastewater infrastructure that serve approximately seven million people and 200,000 businesses in the North-west.
Amey acquired Enterprise who originally held the contract since 2009 and the contract extension will draw on the key successes over the lifetime of the contract including:
Customer service improvements
Improved health and safety record
Enhanced cost efficiencies
Mel Ewell, chief executive of Amey, said: "We are delighted that we will be continuing this important relationship with United Utilities, and look forward to providing excellent service delivery to the communities across the north-west of England."
Steve Fraser, managing director of UU, said: "Amey will play a vital role every day for our three million customers keeping the pipes and pumps of our water and wastewater system working. We have a significant amount of work to maintain and improve many parts of our network over the next five years and beyond, whilst keeping water bills affordable."
The contract award comes at the end of a successful year that has seen Amey pick up seven major highways contracts with Gloucestershire County Council, Liverpool City Council, Transport Scotland, the New South Wales state government agency in Australia, the Queensland Government Department in Australia and ASC 6 and ASC 8 with Highways Agency.
Deals have also been secured with Dwr Cymru Welsh Water to repair and maintain around 20,000km of clean water pipes and install meters across South Wales.