Amey and UU get smart on road works
Utility supply company Amey and United Utilities (UU) have launched a mobile phone app for emergency water and sewer road works. Trials of the app have delivered a near threefold increase in the safety of road works while public satisfaction doubled.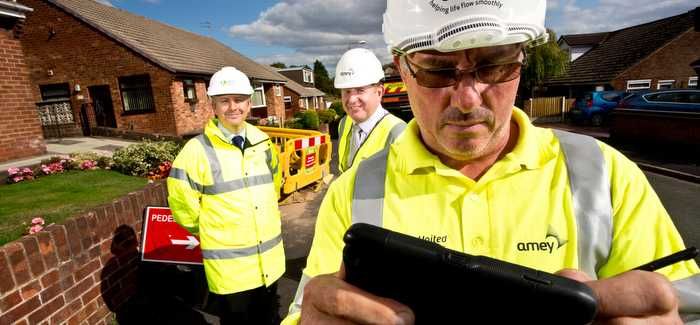 UU's Tony Hemingway and Amey's Adam Stephenson view the app in action
Adam Stephenson, Amey's innovation manager, said the utility industry throughout the UK had long struggled with the issue of making sure all road works were signed, lit and barriered correctly.  "We have experts that go out and check sites but with 100,000 excavations a year on our United Utilities contract alone there is no way they could visit them all.
"It sounds straight forward, but every street and site is unique and interpreting the raft of rules and regulations can sometimes be difficult for street teams who can be managing a number of different jobs at once."
Stephenson said United Utilities, which is one of Amey's biggest clients, had wanted it to think differently about how to make improvements. "The result was the new app. It lets engineers get real-time feedback and advice from experts by submitting details and photographs straight from site."
He said compliance has leapt to 95% on United Utilities street works alone "and we've gone from 14th to seventh in our customer satisfaction league tables".
United Utilities street works technical manager Tony Hemingway added: "Customer service is at the heart of what we do and we don't want to spoil people's day by making their street a mess or delaying their trip home when there's no need. With 174,000 water pipes and sewers to maintain from Carlisle to Crewe, mending bursts and breaks is going to be a fact of life if we are going to keep the taps flowing and toilets flushing for our seven million customers.
"The new app has already made a massive difference and we've had great feedback from highways officials."