Ambitious SUDS project to protect London from flooding
A major sustainable drainage scheme is set to be constructed on London's South Bank as part of efforts to protect the capital from flooding.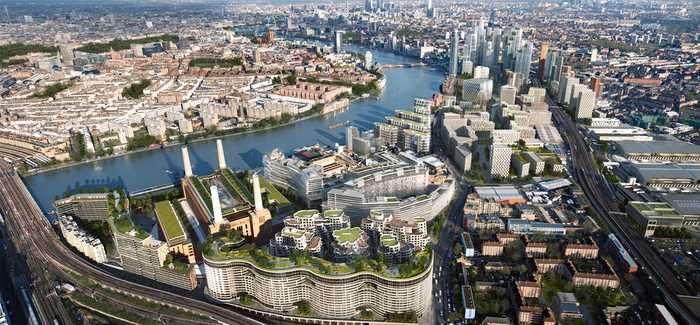 A computer-generated image of how the Nine Elms SUDS project will look on completion
The Nine Elms project is the result of an innovative partnership between Thames Water and the Nine Elms Vauxhall Partnership, which includes Wandsworth Council, Lambeth Council, the GLA and local developers. It will result in rainfall landing on an area equivalent to 20 football pitches draining into the Thames instead of entering the local combined sewer.
Thames Water sustainability director Richard Aylard said: "It is about putting surface water back where it belongs – in the river. By keeping the rain out of our combined sewers we are removing unnecessary pressure on our network, as London's population continues to grow and the climate changes.
"Development and regeneration across London is a major opportunity to do something different with surface water – to take it out of sewers and create additional capacity for new homes and businesses, and allow areas like Nine Elms on the South Bank to thrive. Initiatives like this will also help to prolong the life of the Thames Tideway Tunnel."
Leader of Wandsworth Council and co-chair of the Nine Elms Vauxhall Partnership, Ravi Govindia, said: "This is the city's most ambitious sustainable drainage network and a real step forward for London's sustainable infrastructure. The project is another major achievement for this regeneration partnership as it transforms an old industrial part of the riverside into a modern city centre district.
"In Nine Elms everything from basic utilities and transport infrastructure, to education and health services, are being overhauled and upgraded in a coordinated programme. We are delivering thousands of affordable homes and thousands of new jobs without any taxpayer funding."
Nine Elms on the South Bank is undergoing a major regeneration programme and is now coming to life as a vibrant new central London quarter. The area's key attractions will include a revived Battersea Power Station, the new US and Dutch embassies, Vauxhall Pleasure Gardens, Nine Elms Park and a stretch of Thames Riverside Walk lined with cafes, bars, shops and galleries.
Two new tube stations are being built, alongside schools, around 4,000 affordable homes, health centres, a high speed data network, a second riverbus pier and a cycling and pedestrian network.
The already overstretched sewerage network would not be able to cope with the additional demands arising from the development, so Thames Water, working with the Nine Elms Vauxhall Partnership, developed the integrated water management strategy, which seeks to remove as much rainwater as possible, through the creation of a new surface water network.
The £14M scheme is unique not only because of its scale, but also because of the interaction with developers, whose own schemes include a variety of features to capture, slow and reuse rainwater through measures such as green roofs, swales and streets incorporating rainwater gardens.
These design features will allow water to evaporate back into the atmosphere, irrigate plants and generally slow and reduce the volume of rainwater before it enters the new surface water network. 
The project will capture and redirect surface water run-off from nine development sites across the Nine Elms on the South Bank, with scope to extend it in future. Surplus surface water that is collected after heavy rainfall will be lifted into the Thames via an upgrade to a pumping station on Ponton Road.
Last year Thames Water launched a £20M campaign to find new ways to drain 20 hectares of hard impermeable surfaces – an area equivalent to 30 football pitches. Over the next five years, the company's Twenty 4 Twenty initiative will introduce sustainable drainage systems to slow the rainwater down and ideally completely remove it from entering the sewers again.