Alliances 'create the best environments for delivery'
Alliancing produces better results than traditional partnership models for water companies because of the behaviours, culture and the long-term working relationships involved, speakers from Anglian Water and its contracting partners said at Utility Week Live today.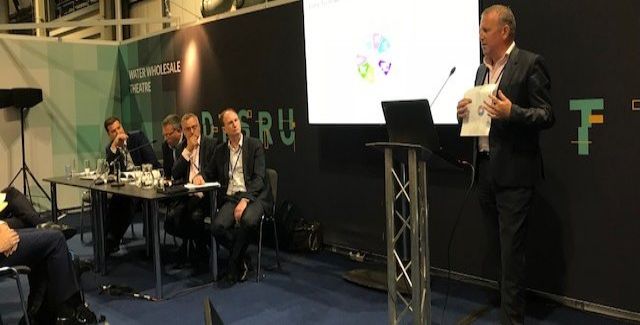 Terry Muckian of Skanska speaking at Utility Week Live this morning (May 22nd)
The east of England utility has opted for 15-year frameworks for its delivery alliances and Andrew Page, Head of Contract Management at Anglian Water, said that the commercial models involved in such long-term arrangements bring about the right behaviours for success. The @One Alliance – Anglian's flagship alliance with contract partners Balfour Beatty, Barhale, MMB, Sweco, Stantec and Skanska – is now in its 14th year and has been followed by five further alliances with 19 partners in total.
"Since 2005, we've proved that alliancing outperforms a traditional partnership model, across customer experience, health & safety, efficiency and delivery," said Page. The key elements to get right are the commercial model, the correct behaviours, leadership and integration, he added. For this reason 80% of Anglian's selection criteria when choosing partners are about behaviours rather than cost, he said.
Dave Ward is director of Anglian's Integrated Maintenance & Repair (IMR) alliance which is now in its 4th year and includes Clancy Docwra and Kier. The alliance has 800 employees and Ward said that it was no easy task to make sure all of them were integrated and working together at the outset.
"We changed to alliancing overnight, but it's important to recognise that our employees had worked in previous models and you can't expect them to adapt to it overnight," said Ward. "We set out in 2015 with a clear intent to offer long-term, stable jobs, with trust and good personal relationships, but we weren't necessarily believed at that point and we didn't necessarily expect to be. We had to work to earn that belief."
Important factors in integrating the workforce included training – with all the alliance's people training together with no differentiation - investment in leadership training, and physical co-location of employees in open plan offices. However the commercial model has to be right before the rest of it can happen, he added. Having a single Totex budget for the alliance has helped greatly in simplifying financial concerns and incentives in the alliance, said Ward.
Terry Muckian, Director of Water and Operational Delivery at Skanska and part of the @One Alliance, pointed out that the 15 year length of these alliance frameworks is longer than the average marriage, and so requires commitment. But he said there is no doubt that the model is one that works for the people involved.
"We want to attract the best people to work for our organisations, and people want to work in a collaborative environment, not an adversarial one," said Muckian. Skanska employees who are part of the @One Alliance have the highest job satisfaction scores of any in the wider company, he pointed out.
The risk-sharing element of alliancing meant that it was often 'win-win', but if on occasion it was 'lose-lose' then the partners could accept this. The important thing was that all the partners are in it together and that no one partner is winning at another's expense, he concluded.
Utility Week Live is taking place on May 22-23 at Birmingham's NEC, and is the biggest annual exhibition for the UK utilities sector.