Affinity Water warns of shortages unless Government acts now
Affinity Water has said the Government must go further and faster to prevent a £40 billion water crisis.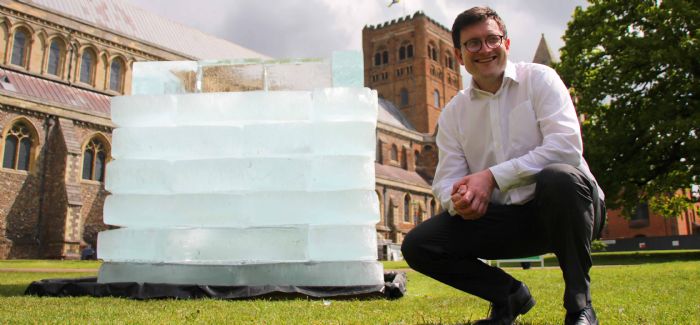 Affinity Water director of communications Jake Rigg with 'The Cold Hard Truth' at St Albans Cathedral
Environment Agency CEO Sir James Bevan recently warned that the water crisis was like "looking into the jaws of death" and that the forces of climate change and population growth could mean severe water shortages within the next 25 years.
Affinity Water has launched a #WhyNotWater campaign to help raise awareness of the crisis and encourage the public to demand key changes to legislation and policy to empower them to save water and energy, helping to conserve the natural environment.
To raise awareness of the campaign, the water-only utility has placed a giant block of ice, named 'The Cold Hard Truth', in front of St Albans Cathedral as part the St Albans Sustainability Festival. The ice block represents the volume of 8,000 litres of water – the amount of water the average family of four uses in just two weeks.
Jake Rigg, Affinity Water's director of communications, communities and corporate affairs, said: "We must act now to avert a crisis. We need to increase the supply of water through new options and by moving water between areas and by reducing demand. The most effective way of doing this is by introducing a mandatory water efficiency labelling scheme and without we will have a crisis on our hands.
"It is clear that if we do not rise to this challenge, we will not be ready for drought which the National Infrastructure Commission estimates could cost up to £40 billion. I'm not willing to play Russian roulette with our children's future.
"We need to work in collaboration with Government, the water companies, and civil society but with fierce urgency. That is why we have launched this campaign.
"Consumers are used to energy labelling in Britain and manufacturers have responded by reducing the energy consumption of white goods. We have this for energy – why not water? All we are asking for is a common-sense approach to water."

The #WhyNotWater Manifesto demands the following actions:
Mandatory water efficiency labelling so that consumers are able to make informed choices about the appliances they purchase
Rights for tenants to request that their landlords install water saving measures so that they are able to enjoy water efficient homes
Ensuring fixtures and fittings meet minimum standards through mandatory certification e.g. WRAS or KIWA to avoid wasting water
Every Local Plan in a severely water-stressed area should include the target of 110 litres per person per day
To read more about the manifesto, visit: https://whynotwater.co.uk