Affinity Water staff work to protect chalk streams
Volunteers from Affinity Water have taken part in training days held by the Wild Trout Trust aimed at restoring river habitats along the River Colne and River Stort.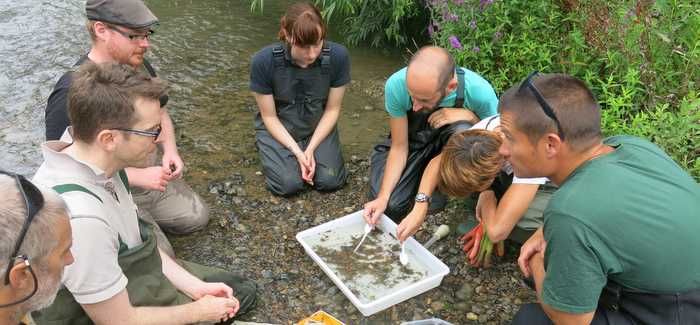 The volunteers learning how to conduct riverfly monitoring
The water company team worked with the Environment Agency to learn techniques to improve rare chalk streams, as part of workshops that also included volunteers from the Wildlife Trust, Riverfly Partnership, the Chilterns Chalk Stream Project and local fishing clubs.
The teams all worked together to improve the habitat on certain parts of the rivers using techniques such as narrowing an over-widened silted channel, using natural materials and adding wooden deflectors to encourage a more nature river flow, which will attract fish-spawning and other species.
On one of the days, Alan Beechey from the Chiltern Chalk Streams Project provided a demonstration on how to carry out a health check on the river using a simple Riverfly monitoring technique.
Mike Blackmore, Conservation Officer from The Wild Trout Trust said: "The tried and tested river restoration techniques that the Wild Trout Trust teaches and employs, are based around the habitat requirements of wild trout but have benefits to the whole river ecosystem. To get conditions right for trout you must first to get it right for aquatic plants, invertebrates and other fish species. By working with the Environment Agency to equip local people, clubs and organisations gain the skills and confidence they need to improve their rivers and we hope to change the way rivers are managed within the community for many years to come."
Alister Leggatt, Catchment Manager at Affinity Water added: "It was very gratifying to be able to see the results of relatively simple measures taken in the river. The work we have completed will help the fish population thrive in the chalk stream environment, but also will help enrich the biodiversity in the stream. We hope that this will inspire some of the volunteer groups to carry out their own habitat enhancement work elsewhere."