AECOM report outlines a water sensitive Yorkshire
Engineering design giant AECOM has published a document that identifies a more sustainable approach to urban and rural water management in Yorkshire. The publication of the document arose from a workshop AECOM hosted earlier this summer which included speakers from Yorkshire Water, the Environment Agency (EA) and City of York Council.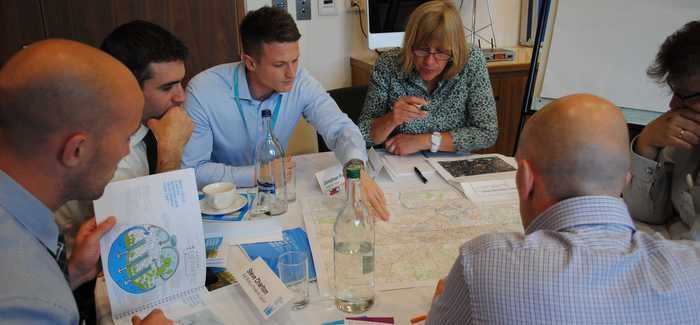 The workshop focused on using sustainable multi-functional space and infrastructure
Urban planners and developers, water managers and drainage engineers from across the region contributed to ideas that formed the basis of Visioning a Water Sensitive Yorkshire, which set out the views of the workshop participants on how "integrated, smart and sustainable approaches to water management" could be developed to mitigate the fluctuating challenges of flooding and water shortages and "reinvigorate the community's connection with water".
The report, funded by AECOM, notes the water sensitive urban design (WSUD), a concept that is still in its infancy in the UK, could, for example, contribute to greening neighbourhoods, improving biodiversity, reducing urban heat island effects and making more public spaces available for recreational as well as functional use.
Although the report focuses on Yorkshire, it is believed other areas of the UK are also closely looking at WSUD, which put simply, is the process of integrating water cycle management with the built environment through planning and urban design.
It comprises managing all elements of the water cycle and consideration of the water cycle from the outset and throughout the design and planning process.
The key issues identified at the workshop focused on using sustainable multi-functional space and infrastructure. They included:
Good quality public open space which could be used for flood storage during extreme events
Green streets with trees, plants and permeable surfaces – reducing surface water run-off and improving water quality
Increased connectivity and access to rivers and canals
Maintaining good water quality through in-situ pre-treatment
Ecological improvements through better water quality, green networks and catchment management.
Actions agreed by those present was to reconvene in six months to discuss progress, develop a water sensitive case study library and develop a mission statement.
Brian Smith, Yorkshire Water's drainage strategy manager, said development of a WSUD approach could not be considered or delivered in isolation. Partnership working, cooperation and collaboration were essential and Yorkshire Water would work with others to create a strategy that was all encompassing. "Creating a water-sensitive Yorkshire and transforming how we manage water and land use in a more co-ordinated way will be a long process as there is a need to change attitudes," he said.
Steve Wragg, flood risk manager, at City of York Council, said: "Lead local flood authorities, in collaboration with their planning teams, must ensure their region is future-proof and have a long-term sustainable future. Water sensitive urban design (WSUD) should be central to good place making, providing shade and shelter through effective planning; WSUD can also regain and provide new character to an area. Crucially, however, WSUD will assist with urban cooling and discharging of increasing water – the two key impacts of climate change."
Matthew Jones, director for AECOM's water practice in the north of England, said: "It has to be recognised though that this is a long-term strategy and making integrated water cycle management a standard practice will be challenging.  We believe that faster adoption of this smarter approach will be achieved through a joined-up approach…"
He said AECOM was keen to encourage a common vision to integrated water management across other regions. "We first implemented this collaborative approach in the South-west recognising that success of integrated water management needs strong collaboration. Having seen a clear appetite to start the transition to a water-sensitive South-west, we have now adopted a similar approach in Yorkshire and are also talking to other stakeholders in other regions," Jones said.