AECOM gets lead design contract for North Bristol Relief Sewer
Global infrastructure services firm AECOM has secured a contract with J Murphy & Sons as lead designer for the North Bristol Relief Sewer.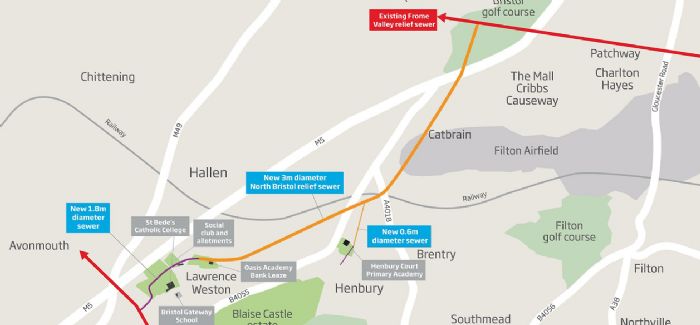 Wessex Water's map showing the path of the new relief sewer
The 6.5km tunnel for Wessex Water will reduce flood risk and increase stormwater storage capacity to accommodate ongoing and future developments in Bristol and South Gloucestershire.
The tunnel will link the Frome Valley Relief Sewer to the Bristol Trunk Sewer, directing sewage around north Bristol to Wessex Water's sewage treatment works in Avonmouth.
Passing under the M5 motorway and the Henbury Loop freight railway, most of the tunnel will be built deep underground with some sections reaching as much as 30-metres below ground level.
Steve Woodrow, AECOM's head of tunnelling – Europe, said: "Tunnelling under the M5 and operational rail services, and connecting with the existing sewage system, this complex tunnel is a vital part of Wessex Water's strategy to future-proof the sewerage network for communities in Bristol.
"AECOM brings its expertise on a number of major water infrastructure tunnelling schemes to the project, including Tideway and Deephams Sewage Treatment Works."
AECOM is working with J Murphy & Sons, which was named principle contractor for the £45 million project earlier this year, on the scheme's outline design.
As lead designer, AECOM will deliver the detailed designs for the project, with construction due to start in late 2019.
AECOM is providing civil, hydraulic, mechanical, electrical and structural design services, as well as environmental consultancy for the scheme.
Click here to read our PR19 Challenge Report on sewer flooding