ACWA completes ammonia removal plant at Leigh WwTW
ACWA Services has completed a new £1.7M ammonia removal plant at United Utilities' (UU) Leigh Wastewater Treatment Works (WwTW) in Greater Manchester.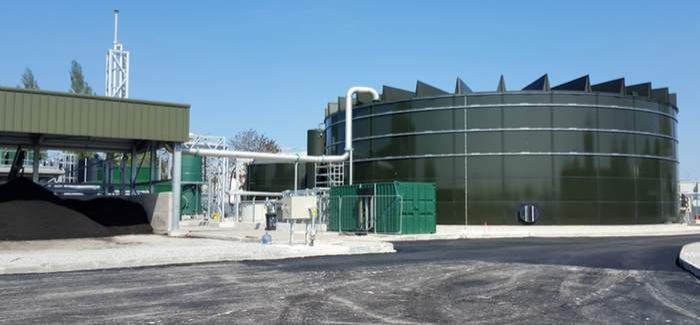 The project, awarded by framework contractor KMI Plus on behalf of UU, is part of an overall upgrade to sewage sludge processing capacity at Leigh WwTW to improve sludge recycling and disposal to land within Nitrate Vulnerable Zones. ACWA is providing all mechanical and electrical aspects of the standalone solution including design, construction, testing and commissioning.
The solution centred on ACWA's Amtreat technology, a high-rate activated sludge process designed to treat wastewater streams and sludge liquors containing high concentrations of ammonia.
Leigh WwTW, which acts as a processing centre importing sludge from outlying sites, will treat the sludge utilising advanced digestion and dewatering that will generate high strength ammonia liquors. These include centrifuge liquors from both raw sludge thickening and digested sludge de-watering processes.
With a processing volume of 805m3 per day, the new Amtreat plant is designed to provide full nitrification-denitrification with a minimum 95% ammonia removal. Once operational, treated liquor will be pumped back to the head of the main treatment works, to complete the cycle.
Peter Brewer, ACWA Services' general manager, said: "Managing ammonia levels is an increasing issue for water companies where advanced thermal hydrolysis and digester technologies are utilised to provide an enhanced sludge suitable for recycling to land, especially in Nitrate Vulnerable Zones (NVZs).
"Key advantages of our Amtreat process include the fact that the technology and equipment used are familiar to the industry, it is robust, easy to operate and control, and can work with highly variable liquor concentrations. A smaller footprint compared to conventional activated sludge processes is a further advantage, especially at Leigh WwTW where we are working with a restricted space, and as liquor temperature can be maintained at a constant temperature utilising a heat exchanger and boiler there is no seasonal dependency."
Work on the project which incorporates anoxic tank, the Amtreat reactor, chemical dosing, settlement tank, stilling tube, heat exchanger and boiler, pumps, blowers, instrumentation and control room, is now operational. Associated civil construction works are being undertaken by KMI Plus.
"The modernisation project at Leigh WwTW led by framework contractor KMI Plus will improve quality, capacity and efficiency for sewage sludge processing including energy recovery," said Jane Horseman, UU's production manager at Leigh. "Treating wastewater flows containing high quantities of ammonia is crucial and ACWA's treatment process, tried and tested at a number of sites, will deliver a robust and flexible solution for ammonia removal."
ACWA's Amtreat solution was developed in consortium with four UK water companies and is now in operation, commissioning or construction at six plants in the UK, including Anglian Water, Southern Water, Seven Trent and now UU. By careful control of key design parameters, high ammonia removal efficiencies can be achieved, in excess of 96%, all at high loading rates.